Quickest tricolour tiffin option for your tot!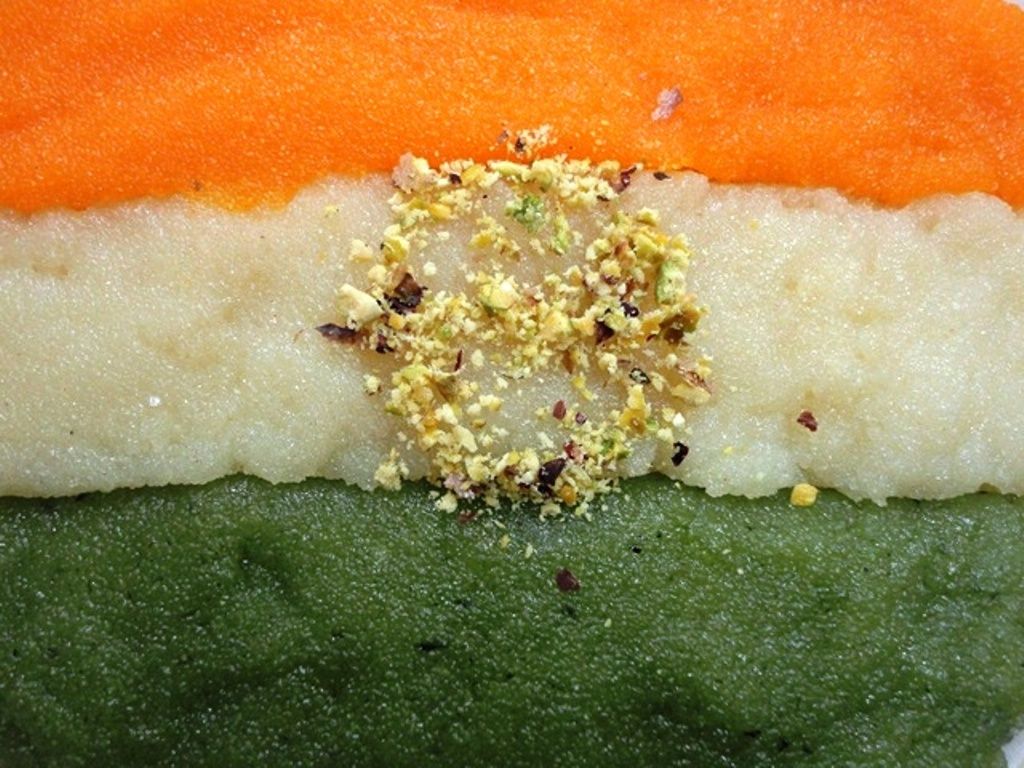 Republic Day is a fun day to celebrate. Many work places and schools expect people to make and get some tri-coloured goodies. Here is an easy Tri-colour halwa recipes you can make and show off your cooking skills!
Tricolur Halwa
Ingredients
1 cup Milk
2 cups Water
3 drops Orange Food Color
3 drops Green Food Color
1 cup Suji Or Semolina
⅔ cups Ghee (clarified Butter)
¼ cups Raisins Or Cashews (optional)
1-⅓ cup Sugar
Method
This recipe is usually made according to ratio, so that you can scale up and down as you want. To fill an 8-inch cake pan 3/4 of the way, follow the amounts given. Feel free to change the cup size as you want, and follow the recipe.
1. Mix the milk and water and divide the water/milk mixture into 3 parts. Color 2 of them orange and green respectively. Leave one plain. Keep the orange and green mixtures in wide pans; they will go on the stove later.
2. In a kadai (wok-shaped pan), over medium heat, dry roast the suji for about 5 minutes to bring out the flavor. Constantly stir throughout the process, otherwise it will burn.
3. Add the ghee, and let it brown for about 15 minutes.
4. Add in the raisins and cashews or whatever else you choose and cook for a minute.
5. Mix in the sugar and immediately divide into 3 parts. Add one each to the orange and green liquid containing pans. Add the plain water/milk mixture to the remaining part.
6. According to your desired order of layering, decide the order of semolina mixtures to be cooked. Since we intended to invert the pan later, chose orange first.
7. Cook the orange mixture until it thickens and leaves the sides of the pan. Layer onto a prepared pan or ring mould while hot; it will be easier to handle.
8. Now cook the white mixture and then green mixture until ready, layer them both, packing well, and then invert the entire thing. The halva has enough ghee that it will come out easily, and if you pack it well enough, it won't crumble either.
9. Serve warm. Keep in the refrigerator for at least a week.
Prepared by Chef Hyatt Singh From Bellagio Restaurants, New Delhi