Master Chef judge and celebrity chef Vikas Khanna has launched his new cookery book 'Everyone Can Cook'. In this book Vikas Khanna put together easy-to-cook recipes using a variety of canned ingredients in ways never seen before.
Everyone Can Cook is an ideal guide not only for those who wish to quickly put together a sumptuous meal, but also for beginners who wish to experiment bravely in the kitchen. It is perfect for women (or men) who want to cook a yummy meal in a jiffy and still make gourmet food. AAW brings to you some exclusive recipes from his new book: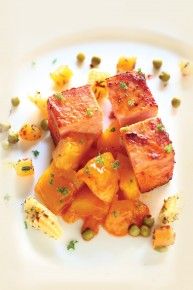 Barbecued Canned Ham & Peaches
The natural sweetness of fruits when combined with spices and meats is a match made in heaven.
Ingredients
· 2 tins canned ham (thickly sliced)
· 2 tablespoons brown sugar (powdered)
· 4 tablespoons red chilli sauce
· 3 teaspoons lemon juice
· 1½ teaspoons Worcestershire sauce
· 1 teaspoon red chilli powder
· 1½ teaspoons ginger juice
· Salt to taste (if required)
· 4 tablespoons oil
· 1 large can peach slices in syrup (drained well)
Method
In a mixing bowl, combine sliced ham with brown sugar, chilli sauce, lemon juice, Worcestershire sauce, chilli powder, ginger juice and salt (if required). Mix well taking care not to break the ham. Cover and keep aside to marinate for 15 to 20 minutes.

Brush a large griddle liberally with oil and heat over medium high flame. Arrange half the marinated ham slices on the griddle and roast, turning regularly to brown evenly on all sides. Drizzle with oil at regular intervals if necessary. When done, remove onto a plate and keep aside. Repeat with remaining ham.

 Reduce the flame to medium low and add marinade and peaches onto the griddle. Toss gently till the peaches are coated with the marinade and just warm.

 Remove and serve the ham with peaches hot.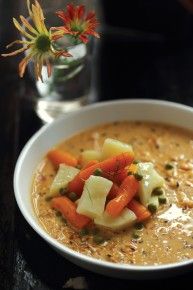 Mustard Vegetable Curry
You can substitute vegetables with any poultry and cook it longer to create a new dish in your kitchen.
Ingredients
· 2 teaspoons oil
· 6 large cloves garlic
· 1 teaspoon cumin seeds
· 2 medium onions (finely chopped)
· 1 teaspoon red chilli powder
· ½ teaspoon turmeric powder
· 1 small can unsweetened coconut cream
· 1 cup canned vegetable broth
· 2 tablespoons mustard paste
· 1 large can mixed vegetables (drained & rinsed well)
· Salt to taste
Method
 Heat oil in a pan over medium flame. Add garlic and cumin seeds and sauté for a minute.

 Add onion with chilli powder and turmeric powder and cook till the onion softens.

 Stir in coconut cream with stock and bring the mixture to a boil, stirring continuously.

 Allow the curry to boil for a minute, then reduce flame to low and mix in mustard paste. Simmer the curry for another 2 minutes, then add vegetables, adjust salt and remove from the flame.

 Serve hot with bread or rice.
*The recipes are for 4