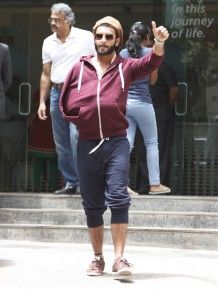 Ranveer Singh who underwent the surgery at Hinduja hospital for a shoulder injury which he suffered on the set of Sanjay Leela Bhansali's next film "Bajirao Mastani" has returned to his home on Sunday for his "rehab phase".The actor informed his fans through his twitter page""Surgery went well… Back home now and all set for Rehab phase… Thank u all for ur love n concern! #stongerthanbefore #eyeofthetiger," the "Band Baaja Baaraat"  posted he.
Ranveer wore a maroon coloured jacket that covered his right arm sling and with his left hand he waved at his fans and showed a thumps up sign outside the hospital.
The actor kept on updating his fans about the surgery through out and even shared an image of himself on a hospital bed with leads attached to his bare chest.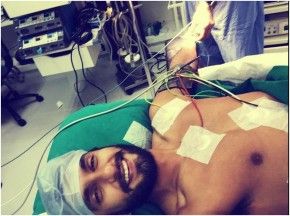 Finally he has been discharged and we wish him a speedy recovery!