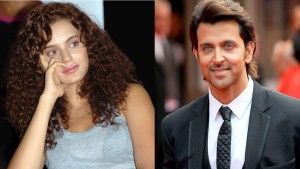 After being in relationships with Aditya Pancholi, Adhyayan Suman and Nicholas Lafferty, Kangana's new man was Hrithik Roshan. In her recent interview she herself revealed her relationship with him. At the time of Hrithik-Suzanne divorce, the grapevine was buzzing with rumors that Kangana is the reason behind the separation.
Thst time, Hrithik left no stone unturned to claim that this speculation has nothing to do with truth. Now, when Kangana was asked in an interview with Pinkvilla if Hrithik is the reason behind having her replaced with Sonam Kapoor in Aashiqui 3, Ranaut said "I don't know why exes do silly things to grab attention. For me the chapter is over and I don't believe in digging graves."
The moment Kangana's 'silly' remarks surfaced on internet, duggu chose to have a wise take on this and tweeted:
Ther r more chances of me having had an affair with d Pope dan any of d (Im sure wonderful)women d media hs ben naming.Thanks but no thanks.

— Hrithik Roshan (@iHrithik) January 28, 2016
It was the first time when Hrithik registered his hate publicly. The actress must be burning with rage right now. Well it was reported that Kangana was head on heels in love with the actor but back then, he was married and was unable to acknowledge anything publicly. This left Ranaut wounded and things immediately went wrecked between them. We can't wait to hear Kangana's response to this. Your thoughts?