Sonam Kapoor trends on Twitter as she is criticized for Plagiarizing Humans of Hindutva post:
When it comes to trolling Sonam Kapoor is one actress who is pretty much in highlight. Once again Sonam is in news, this time for plagiarizing a Humans of Hindutva propaganda post that they had posted after the Indian Air Force destroyed terror camps in Pakistan.
After reading their post, Sonam copied it and shared it on her Instagram page without giving credits to the group. To this, she received backlash from Twitter for promoting anti-Hindu sentiment. Sonam took up the current situation between India and Pakistan to express views about Hindu extremism and how the average Hindu and Muslim want peace and not war. Her actions made people calling her anti-Hindu on Twitter, whereas some people supported her and said that she was telling the truth.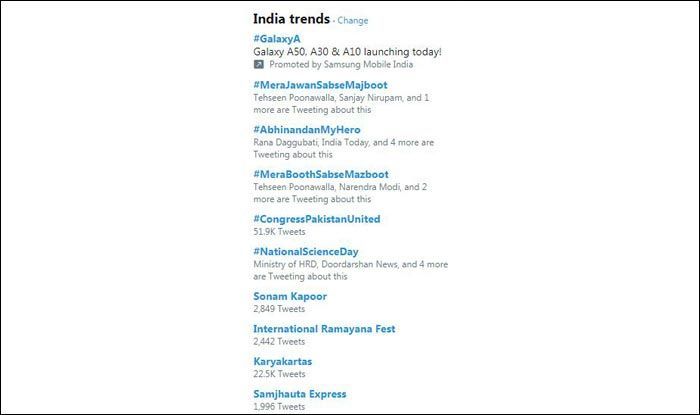 The post from Humans of Hindutva explained that Hindu and Islamic fundamentalists have a lot in common, with minds that are poisoned by hate. Sonam posted the same on her Instagram story.
Check the posts below: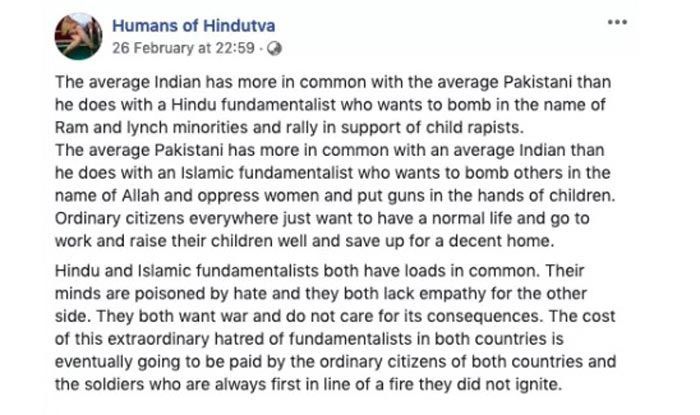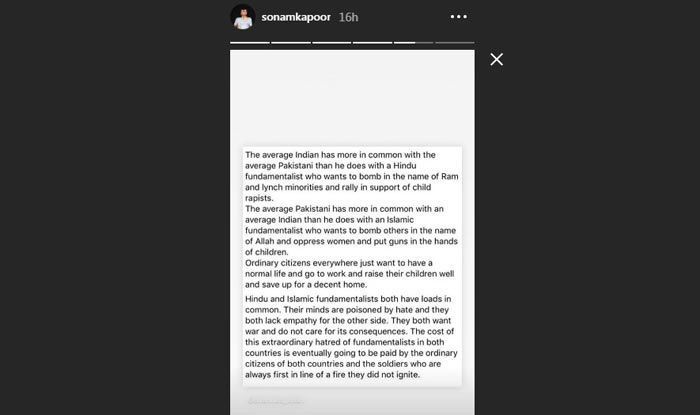 Soon after Sonam shared this post, people started criticizing her:
Sonam Kapoor says 'Hindu fundamentalists' bomb in the name of Ram.
That is the most outrageous thing I've ever heard and I wish there was some sort of action I could take.
She needs to know that us Hindus are too busy protecting our religion to kill people who don't follow it.

— An Intellectual Badass (@NidhiAnand13) February 28, 2019
Sonam kapoor just compared Hinduism with Islam. Just ask this dumb fcuk what was the religion of the terrorists who hijacked the plane in which neerja bhanot was the air hostess .

— BING (@ya_jhakaas) February 28, 2019
44 of our men were mercilessly killed in the name of Jihad & Sonam Kapoor equates Islamic terror with "Hindu" terror. After this if Hindus watch her movies or buy brands endorsed by her, we deserve the BS flung our way.

— Divya (@divya_16_) February 28, 2019
Shame on @AnilKapoor for raising anti Hindu daughter who says Hindus throw bombs in the name of RAM
Hindus rape in the name of their GOD
When did Hindus throw a bomb?
What a moron ths SONAM KAPOOR is?
I want all Hindus to protest against this Kapoor family
Ostracize Kapoors

— Girish S ⛳⛳⛳🔥🔥 (@girishs2) February 28, 2019
So according to Sonam Kapoor in India only Hindus are fundamentalist, she is doing Hindu-Muslim in such matter also. Such people in the name of peace create religious divide.

— Bharat (@bharat_148) February 28, 2019
I promise you Sir @AnilKapoor

By bringing in Hindus and Ram, your daughter has awakened the INTOLERANT HINDUS of India.

I promise that any movie that has Sonam Kapoor will be boycotted by me, my friends, my family. #AntiNationalSonamKapoor#DeshDrohiSonamKapoor pic.twitter.com/62Wz1eoLL5

— Hindustani (@hdbarjatya) February 28, 2019
Wonder who pays Sonam Kapoor for attacking Hindus even at such times? #BikaooBollywood pic.twitter.com/FrEnK804lq

— अंकुर सिंह (@iAnkurSingh) February 28, 2019