Retail therapy is the best way to lift your mood and when its easy on pocket too, then its like cherry on the cake and one such market for shopping is Sarojini Nagar. It is a paradise for shoppers especially girls, as its the biggest flea market of Delhi. You can pick up some amazing stuff at dirt cheap prices which is why it is the most popular and crowded market of the capital. But you have to be a smart shopper while doing shopping at Sarojni Nagar, " When I went for first time I didn't know how much bargaining can be done so I just bargained for INR 50 or 100 and was very happy but when I went with my friends I felt so bad as I had bought the same stuff at a much higher price, reminisces Shalini Ahuja, a college student.
Team AAW girls are regular
Sarojni

Nagar

shopper so here a tips and tricks to keep in mind while shopping:
Go early: Try to reach the market early by 11am so that you can explore the market properly and also the shopkeepers are in good mood to show you stuff and your bargain too are easier.
Wear comfortable clothes and footwear:
Sarojni
Nagar
is the biggest and most crowded flea market of Delhi so it advisable to wear comfortable and decent clothes so that you can easily  walk around without being cautious.  Wear flats so that you can easily explore the market without  having pain in your legs.
Carry a big bag: The market  has super cheap stuff so you will definitely end up buying loads of things so its better to carry a big bag to keep the small things together.  You can buy a bag from there too but  that will be of cheap quality so its better to carry one along.
Bargain: No matter how much the shopkeeper asks just  start with hundred. If he doesn't agree then increase the price accordingly  but don't go beyond 200- 250.  If he doesn't agree then just walk out the shop and chances are he will agree to  the price quoted by you.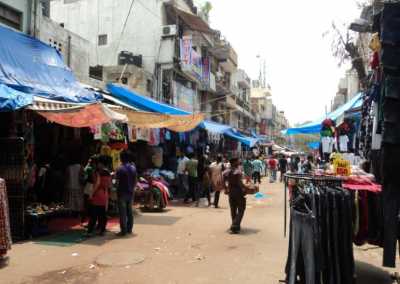 Explore:  First explore the market a bit and then start shopping . Don't just pick up all stuff from a single shop.
Control your emotions: If you like any garment don't react and show them that you liked it else they won't bargain.
Carry cash: Since its a flea market they don't accept card. Carry cash with you especially 50 and hundred rupee notes.
Check : Since most of the the items are export surplus or rejected stuff so check the piece properly  in terms of colour, tears, zip or any stains before buying it.
  Avoid buying cosmetic: Avoid buying cosmetics from the hawkers as they all fake and you never know from what ingredients are put into them .
Other points
Avoid going on a Monday as the market is closed.
Carry a water bottle along specially during summers.
Avoid buying trousers, jumpsuits , sports shoes and other things which may have size issues.