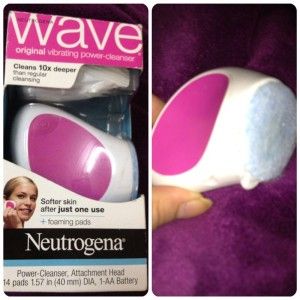 I have a soft corner for tech inspired beauty products and Neutrogena Wave fell in that category. Hence, it was instant love. I picked it and tried it, yes it made my skin smoother in one go. Here is why Neutrogena Deep Clean Wave Power Cleanser works:
Claims: A new, breakthrough, battery-operated cleanser than cleans 10 times deeper than manual cleansing. The vibrating, softly textured pads cleanse from deep within pores, leaving skin feeling softer from the first use. Dermatologist tested water resistant formula that is gentle for daily use. Normal to oily skin type. Available in one size: 1 unit (14 refill pads)
Packaging: The Neutrogena Deep Clean Wave Power Cleanser comes in a box which contains the Wave cleanser, a Duracell battery and 14 refill pads.
Price: The Power Cleanser costs 799 INR and the refills are prices at 399 INR.
Steps to use: Neutrogena Wave Power Cleanser is relatively simple to use:
Step 1 Attach disposable pad to Wave and hold it under running water.
Step 2 Turn it on and massage all over your face, avoiding the under eye area.
Step 3 Rinse, wipe face and moisturise.
Pros: The Neutrogena Deep Clean Wave Power Cleanser works like a vibrating cleanser, so as it works you get the feeling that it will clear all grime.
· It is great for oily skin but I tend to use this only in humid monsoon months as my skin starts peeling.

· It sloughs away dead skin and opens pores (you can see the difference immediately)

· Great for blackhead prone areas.

· Helps penetration of lotions, creams better.

· The skin shines like the post facial glow.

· It is easily available at all Neutrogena counters and New U.
Cons: Here are a few things I dislike about the Neutrogena Deep Clean Wave Power Cleanser:
You need to use a new pad every time you clean your face. (I use the same one twice but I dry the pad and keep it in a jar). On days when I can't find my refills I have used cotton pads with my regular facewash.

 Over usage can peel your skin. I stick to using this only at night.

 It is expensive. As the refill is a costly affair.
Rating: 3/5
Have you tried the Neutrogena Deep Clean Wave Power Cleanser?