How to make the best infused water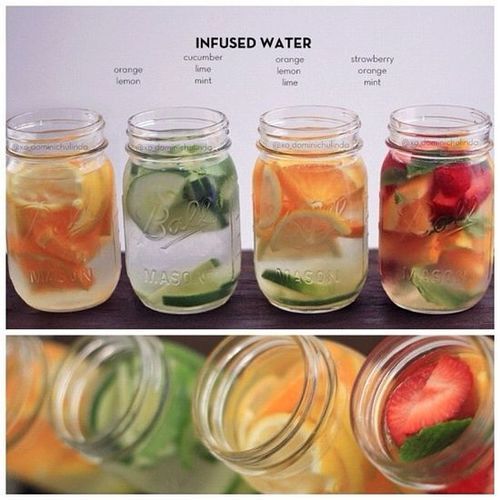 Infused water is a rage right now. It is healthier and nutritious over regular tap water. Lest we forget tasty too! In summers, we all end up making squashes or having sugar laden drinks to quench our thirst. This can add kilos before you even realize! The thirst-quenching and healthier solution? Fruit-infused water!
Infused waters is easy to make, nutritious, and refreshing. Simply use any fresh fruit (except bananas — they don't work well), herbs, and spices to turn your plain water into a refreshing, flavored drink.
What Is Infused Water?
Infusing water involves steeping fruits, veggies, herbs, and/or spices with water until the flavors fuse together. Infused water is the perfect substitute for sugar laden drinks like fruit juices, pre-made iced tea, soda, and energy drinks.
Infused water is very easy to make, just add water, ice, and any combination of fruits and vegetables mentioned below to create it. Make infused water in your favorite reusable water container.
The fruit, veggies, and/or herbs in the bottle can be reused as you can refill the water when you finish it.
Best infused water combinations you must try:
Orange, Cucumber, Lime, & Lemon
Cucumber & Fresh Mint
Apple & Cinnamon Sticks
Lemon, Cucumber, Fresh Mint, & Fresh Rosemary
Blueberry & Strawberry
Frozen Grapes, Frozen Strawberries, & Fresh Mint
Honey Dew, Cantaloupe, & Watermelon
Watermelon, Pineapple, & Apple
Peach, Honey Dew, & Cantaloupe
Watermelon & Peach
Fresh Mint, Fresh Lavender, & Lemon
Strawberry & Fresh Mint
Peach, Strawberry, & Raspberry/Blackberry
Blackberry & Fresh Sage
Kiwi, Raspberry, & Peach
Strawberry & Orange
Recipe to make your favourite infused water combination:
You'll Need:
A clear plastic bottle or a glass pitcher depending on the quantity you wish to make.
Fresh distilled water
Wooden Spoon
A pinch of sweetener or honey (optional)
Cut the fruits in slices or dices and add them.
You can add a bit of peppercorn
Directions:
Choose the fruits you want see from above or come up with your own combination.
Place the fruit, herbs, and/or spices in the bottom of the bottle and muddle (crush slightly) with a wooden spoon to release some of the flavor of fruits.
Fill the jar with water to give it a taste. Add the sweetener or honey and mix until dissolved.
Enjoy as-is or refrigerate overnight for maximum flavor.
For a larger batch of infused water, use the above direction, increasing the quantities of fruit also let it sit longer for 2 – 8 hours (depending on how strong you want the flavor to be.)
What are your favourite combinations?