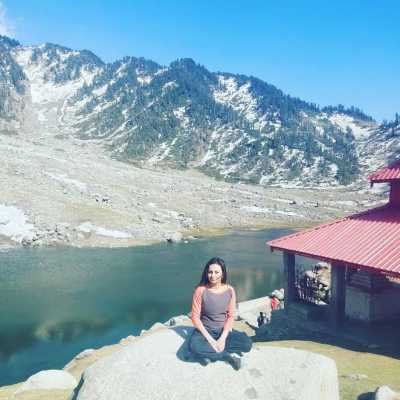 Recently our ace Team AAW writer Rachna Somani took a week long trekking trip. It tested not only her physical health, it checked her emotional vulnerability and how she overcame it. Read below her day by day account of her maiden trekking trip to Kareri Lake.
I started my journey with anxiety, guilt and apprehension because as a mother you are always second guessing yourself. Social conditioning plays a big role too. For me to actually go on this trip leaving my daughter at home, without the comforts of hotel rooms, with relative strangers and without any phone connection for almost two days was a very big thing to do. I went with a group of seventeen people, people from various walks of life who like me were looking for some me time.
Kareri Lake is a high altitude, shallow, fresh water lake, located approximately in the North West of Dharamsala in Kangra district, Himachal Pradesh It is at a distance of 13 kms from Kareri Village.
Day 1 – We all started our journey from Ludhiana on 13th Morning at 7 am. We traveled by a tempo traveler. It was so much fun, listening to songs and laughing at silly jokes. We reached Dharamkot at about 4 in the evening and stayed overnight at a guesthouse. It is a small beautiful village. Do try food at Trek & Dine, Café. The place looks divine especially with the newly built top floor and the food is really delicious.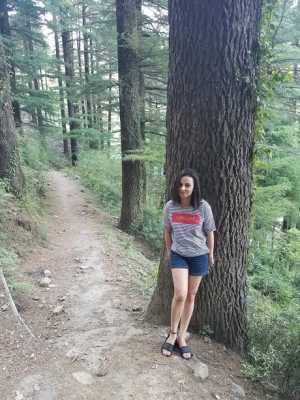 Day 2 – Next day on a sunny day, we reached Kareri Village. It is 1.5 hours away from Dharamkot and road condition was really bad at some places. So it is better to travel with a seasoned driver who knows the routes. We started the trek at about 1.30 pm. It was not a very easy trek because it was quite steep at some places and basically comprised of stone steps. We reached the camp at about 6 pm in the evening because you can't help but stop at beautiful spots on the way. Phone stops working somewhere in between the trek. I sat by the river, felt so much peace and tears just flowed. It is hard to describe the feeling when you are surrounded by mountains, you sit by a river with chilly cold water and stars look so close. I can't remember the last time I saw so many stars and felt a sense of oneness with the universe. We had an early dinner and stayed overnight at camps.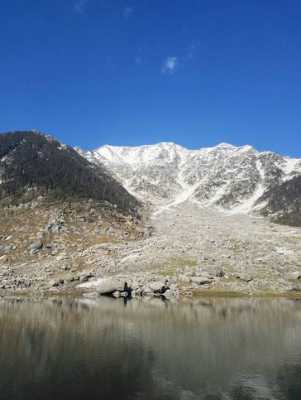 Day 3 – Have you ever brushed your teeth and washed your face with icy cold water? This trip really made me get out of my comfort zone and I enjoyed every moment of it. Post breakfast, we started our trek towards the Kareri Lake. The way is so beautiful that it takes your breath away. The people, with whom you started your trek with, strangers at first, are now your friends and perhaps your only support and motivation system for the next few days. You know things about them and you get to see the real versions of them because journeys like these leave no scope for fakeness. Your real self also shows. Before reaching the lake, we had our lunch and took a dip in icy cold water. I have always stayed away from all sorts of adventure but something about the place and people made me let go. I am glad I did. Then we went to the lake and the view was just spectacular. There is a beautiful temple there. People had set up camps overlooking the beautiful lake and played music. There was so much joy and laughter all around. You capture these moments in your heart because no camera can do justice. Then a group of us, five friends, went up a hill, we had a whole view of lake and we watched the most beautiful sunset. After we came down, all of us just lay down and watched the stars. It was cold and getting dark but the wanderess in me lives for moments like these. We started back for our camp and it was almost dark. We used torches to complete the trek. It was risky, scary and adventurous. When we reached back to camp site, we had soup and dinner sitting by a bonfire. People sang songs and danced but I was just happy to watch them. I didn't want to sleep and just wanted to watch the stars. It was a beautiful night, one am going to always remember and cherish.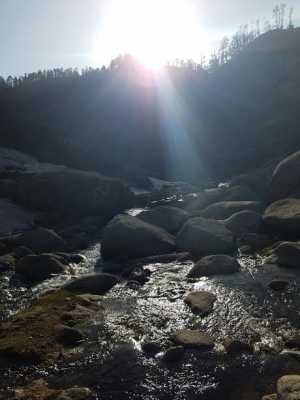 Day 4 – For me, it was the most difficult part of the journey. I wasn't wearing trekking shoes and it was a silly mistake. So my feet and toes hurt like hell. I would advise every trekker to wear comfortable clothes, trekking shoes and travel light. At every chance I could get, I dipped my feet in cold water. I could complete the journey because of my friends who were always there with me. We reached back Kareri Village at about 4. We, three, were the last one to reach, as usual. Then we had lunch at someone's home and they were so nice and hospitable. At about 5 we started the journey back to Ludhiana. I got off at Jalandhar and it was difficult to say goodbye to my friends even though I was dying to see my daughter who was waiting for me back home at Delhi. I took a Volvo from Jalandhar at 12.15 am and we reached Delhi at 5 am. I was at my home at 5.30 am before my daughter even woke up and it was pretty amazing. I was so tired because I could not sleep in the Volvo but as soon as I was in my own bed besides my daughter, I slept in a few seconds.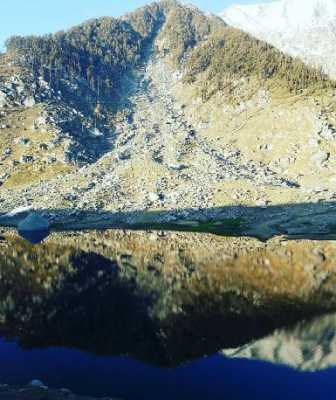 Would I do it again? Yes because it connects you. You feel calm and more importantly it makes you cherish the present over the future!