Nora chanted Jai Hind & wrongly waved the Indian Flag on the stage!
Bollywood's well-known dancing diva Nora Fatehi chanted Jai Hind and waved Indian National Flag at the 2022's FIFA World Cup. While standing on the stage, she immensely felt pride at the moment of representing India with continuous chanting of Jai Hind.
Nora's video of frequently shouting Jai Hind is the best thing to see on the internet as social media is greatly loaded with videos and pictures here's a glimpse of the same.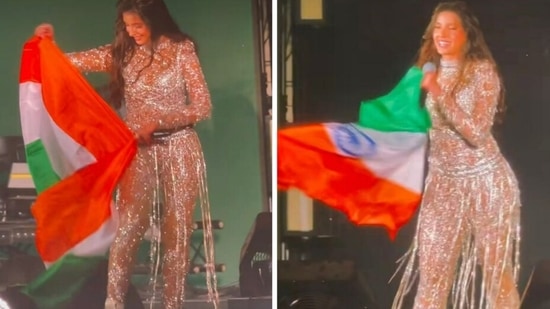 View this post on Instagram
Post-this, she has been brutally trolled by the netizens since in her excitement she held the flag in the wrong way. She mistakenly waved it upside down to which many people commented that she has disrespected the flag. However, many fans also supported her initiative of representing India and said in her favour that she isn't Indian but still waved the national flag.
Never Trust A 🅱️umslim to hold and respect the Indian Flag Correctly!#NoraFatehi pic.twitter.com/0bN6mP3Un8

— CAAptain Sanghi (@Fight4TrueIndia) December 2, 2022
Jisne feka uski galti, Nora ne uthakar aacha kaam kiya. green colour keval kuch second ke liye upar gaya. 15 second ke video se judge karna galat hai. Aisa mat karo ki log tirange ko uthane se bhi Darien ki koi protocol to nhi toot raha hai.

— peace lover (@vipinpateliitr) December 2, 2022
The fest took place at AI Bidda Park in Doha wherein, her dance performances were lit and totally amazed fans. Appreciating her performance and ways of representing our nation in Qatar, she also grooved to her Light The Sky anthem.