Netizens Shocked as Salman's security push Vicky Kaushal at IIFA 2023: 
IIFA 2023 is all set to take place in UAE's Abu Dhabi this weekend and a host of celebrities including Salman Khan, Vicky Kaushal, Abhishek Bachchan, Nora Fatehi, Rakul Preet, Sunidhi Chauhan, Rajkummar Rao, Badshah, and others have arrived at the island to bring their magic to the event. 
Salman was seen in a new look at the event as he sported a mustache and a beard.  Meanwhile, a video from the event has surfaced on the internet where Salman's bodyguards didn't let actor Vicky Kaushal come close to him for security reasons. 
Salman Khan & Vicky Kaushal interaction at IIFA 2023❤️🥰🔥💪⭐👌😊👇#salmankhan #IIFA2023#AbuDhabi #Tiger3 pic.twitter.com/YQKP6B6UF4

— R gulati (@ritesh272727) May 25, 2023
In the video, Vicky can be seen capturing a selfie with a fan when Salman walks by accompanied by his security team. Vicky approaches Salman to shake his hand, but he is intercepted by Salman's fans. The security guards prevent him from getting close to the renowned 'Dabangg' star and even push Vicky away. This footage, taken during IIFA 2023, has gained significant traction on the internet and has sparked mixed reactions among netizens.
While some users called Salman's security 'rude', a few others wondered if the guards failed to recognize Vicky Kaushal and treated him like a commoner. Meanwhile, a few others defended Salman and wrote that Salman is under death threats now and this could be the reason why his security didn't let Vicky Kaushal come close to him.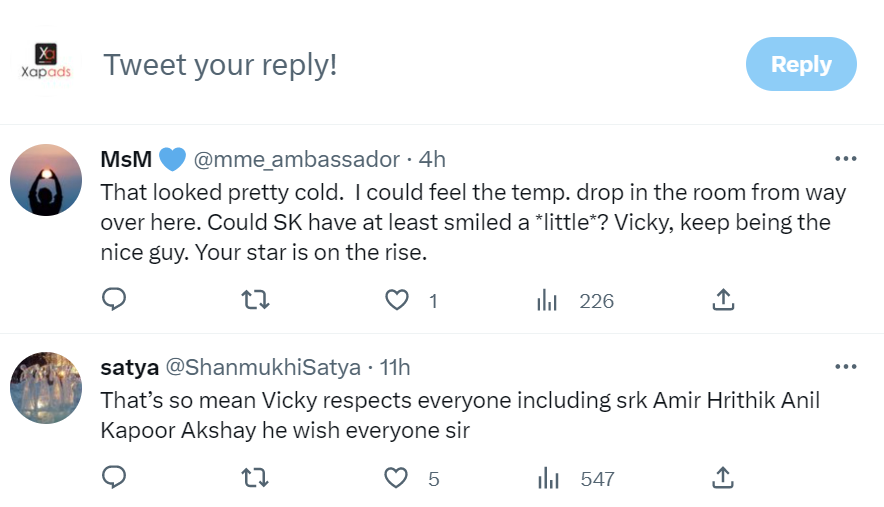 Taking place on May 27, IIFA 2023 will be hosted by Rajkummar Rao, Farah Khan, Vicky Kaushal, and Abhishek Bachchan. A number of stars are scheduled to perform, including Nora Fatehi, Jacqueline Fernandez, Rakul Preet Singh, and others.