Sometimes, we all look for recipes which will make our kids smile when they open the tiffin, and while we are all pressed for time early morning. These recipes are classic, gourmet and can be prepared in a jiffy if you prep the night before.
Whole Wheat Apple-Raisin French Toast
served with apple slices, maple syrup and raisins garnish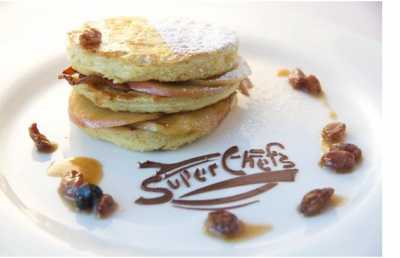 Ingredients
Whole Wheat Raisin Bread: 4 slices
Orange Juice: 100 ml
Maple Syrup: 35 gram
Butter: 5 ml
Vegetable oil: 5 ml
Description
Blend eggs, orange juice and vanilla
Dip bread into egg mixture
Place 1 tbsp. veg oil on a pre-heated griddle at medium heat and cook for 3 min per side
In a medium high skillet place 1tsp of butter and 1tsp of vegetable oil and add apple slices and bring to a simmer add maple syrup.
Arrange French toast on plate placing one as a base and lay over caramelized apple alternating another layer
Garnish with raisins
 Thai Chicken & Apple Curry with Jasmine Rice
Chicken, apple, green peppers and peas in curry sauce served with jasmine rice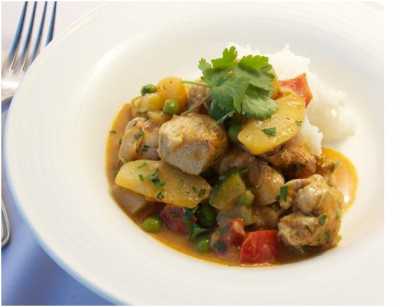 Ingredients:
Vegetable oil: 2 tbsp
Chopped onion: 1
Green Pepper: 1
Medium Apple: 1
Red Curry Paste: 2 tbsp
Light soy sauce: 1 tbsp
Chicken broth: 2/3 cup
Diced Chicken Breast: 450 gram
Frozen peas: 1 cup
Cooked Jasmine Rice: Half cup
Description
Pre-heat sauté pan with vegetable oil
Add onion and cook until tender
Add garlic, green onion and curry paste and cook for one minute
Stir in soy sauce, coconut milk and chicken broth
Add chicken and apples and simmer for 8-10 minutes until chicken is cooked through
Add peas and cook for 2 more minutes and season with salt and pepper and serve over 1/2 cup cooked Jasmine Rice.
Chicken & Vegetable Kebabs
Served with zucchini, mushrooms, cherry tomatoes and sides of cornbread, tzatziki sauce and tropical salsa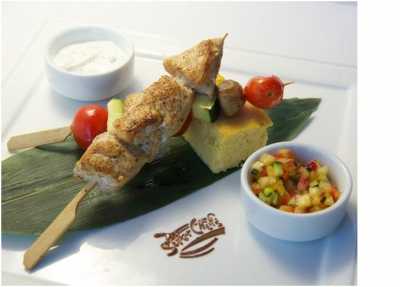 Ingredients:
Chicken cut into one cubes: 100 gram
Zucchini: 2
Mushroom: 2
Whole cherry tomatoes: 3
Tropical Salsa: 60 ml
Tzatziki sauce: 60 ml
Cornbread: 50 gram
Description:
• Mix marinade and ingredients together in a bowl. Cut chicken into cubes (1 inch square) and place in marinade. Cover and refrigerate for 1.5 hours
•Thread chicken onto skewers that have been soaked in water for several hours
•Drizzle chicken w/oil and sear in a hot fry pan and finish in a 350°F – 175° oven for 10 minutes
•Thread vegetables alternately onto separate skewers and begin cooking 5 minutes after you started the chicken ensuring the vegetables won't burn
•Serve on banana leaf and garnish with tropical salsa and Tzatziki and cornbread
Recipes by: The Westin Gurgaon