When we think about Navratri food kuttu ka aata, potato, fruits and sabudana comes to our mind. But do you know that we can make amazing appetizers with the most boring vegetable- Arbi (Colocasia Roots ) and not so happening Guava. Chef Ashish Rai, Head – Culinary Operations, Barbeque Nation tells us how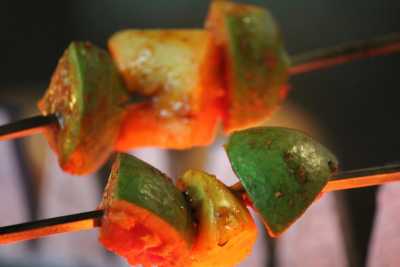 Atomic Guava
Ingredients
Guava: 500g
Tomato Paste: 3tbsp
Paprika Powder: 2tsp
Chili powder: ½ tsp
Salt :1 tsp
Red Fresh jalapeno: 3 tbsp
Method
In a medium round based mixing bowl add tomato paste, paprika powder, chili powder, salt and jalapeno. Mix well set aside.
Wash and cut the guava into big dices and marinate in the tomato mixture set aside for 30mins
Pears it on a skewer and grill on a moderate hot grill about 5mins. Serve hot.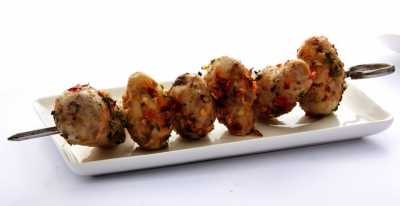 Tsimboka Veggies
Colocasia Roots (Arbi): ½ kg
Black Olives Sliced: 2 tbsp
Fresh Garlic Chopped: 1 tbsp
Fresh Parsley Chopped: 2 tbsp
Red Chilli Flakes: 1 tsp
Salt to taste:  ½ tsp
Olive Oil: 2 tbsp
Aromatic Seasoning: 2 tsp
Method
Wash the colocasia roots thoroughly and drain the water set aside. In a medium sauce pan take about 2 ltrs of water add 1 tsp of salt and the colocasia roots. Cook the colocasia roots on medium flame till it is cooked in the center. Make sure the colocasia roots are well cooked or it may cause itching in the throat.
Peel the outer skin of colocasia roots and set aside.
In a wok heat oil and gently sauté garlic, black olives, chilli flakes, salt, cooked colocasia and finally add aromatic seasoning and toss the mixture well so that the colocasia forms a good coating.
Skewer the prepared colocasia along with tricolor bell peppers and grill on a hot grill.