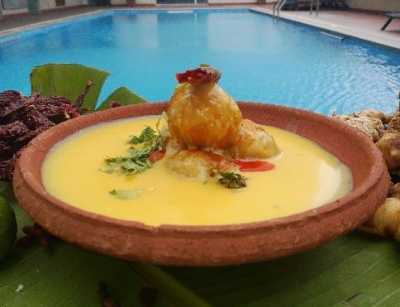 As we all know Navratri is just round the corner so Team AAW brings an intresting recipe which will turn your fast into feast. So shun boaring aloo ki sabzi and try Narangi Kacche Kele ke Kofte this Navratri
Ingredients
Raw banana: 500 grams(Boiled along with skin and mashed)
Potatoes: 100 grams(Peeled and boiled )
Coriander leaves: 20 grams(finely Chopped)
Green chilly: 5 gms
Oil: for frying
Ghee: 50 ml
Cumin seeds: 1 teaspoon
Green chilly:5 gm(Slit into 2)
Orange juice: 1 litre
Cashewnut : 50 gms(Boiled and grind into a paste)
Black salt: 2 teaspoons
Cream 50 ml
METHODS OF PREPARATION:
1. Mix mashed banana, potatoes, coriander, green chilly and salt. Mash them nicely with the palm of your hand.
2.Roll them into pears shape and deep fry them till golden.
3. Now add ghee in pan let it be hot, now add jeera seeds and let them crackle.
4. Add orange juice, slit chilly and reduce the juice till half.
5. Now add the cashunut paste and cook it further for 5-6 mins on slow heat.
6. Add cream, salt and then strained the gravy.
7. Now arrange the fried Kofte in plate, pour the gravy in the plate and garnish with a wedge of orange dusted with chili powder.
Recipe by: Chef Apoorv Bhatt, Corporate Chef, Berggruen Hotels Pvt. Ltd.