Make these Apple recipes by Washington Apple commission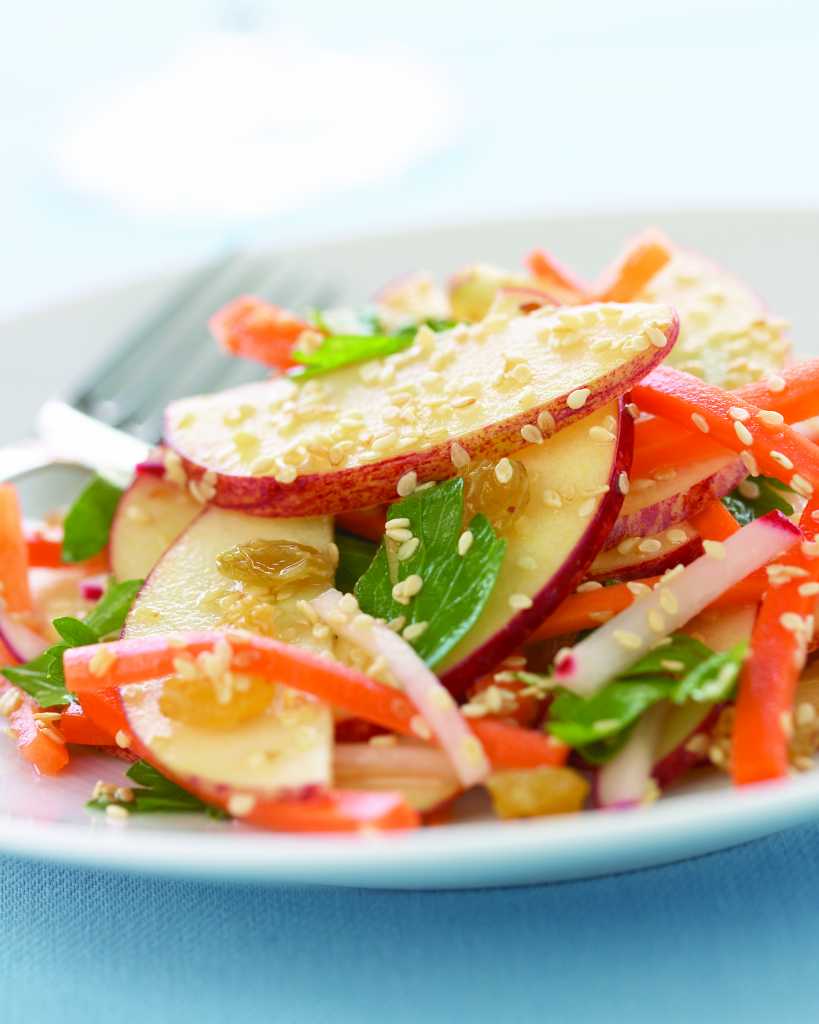 Remember the age old saying, 'An Apple a day keeps the doctor away'? Well recently to celebrate Apple, the #OriginalHealthFruit, Washington Apple Commission unveiled the Washington Apple Cook Book in India. The ook book has some seriously delicious recipes and we got the chefs to share some of the best ones with use. Happy cooking
Washington Apple sesame Salad
This fresh, light-tasting salad has a mildly nutty flavor with a hint of mint that complements the super sweetness of the Fuji apple. Top with grilled chicken for a complete meal.
Portions: 6
Ingredients
2              Washington apples
2              medium carrots
1              bunch small radishes
1/2 cup                 golden raisins
1/2 cup chopped fresh parsley
1/2 cup                 chopped fresh mint
Dressing:
1/4 cup cider vinegar
2 tbsp    honey
1 tsp      Dijon mustard
Salt and pepper to taste
3/4 cup                 extra virgin olive oil
2 tbsp    sesame seeds, toasted
Method
Quarter apples; remove core and thinly slice. Set aside in large bowl.
Peel carrots and cut into matchstick pieces. Add to apples
Slice radishes and cut into thin strips. Add to apples. Gently toss with raisins, parsley and mint.
In small bowl, whisk together, vinegar, honey, Dijon, salt and pepper. Slowly whisk in oil.
Just before serving, toss salad with dressing and sprinkle with sesame seeds.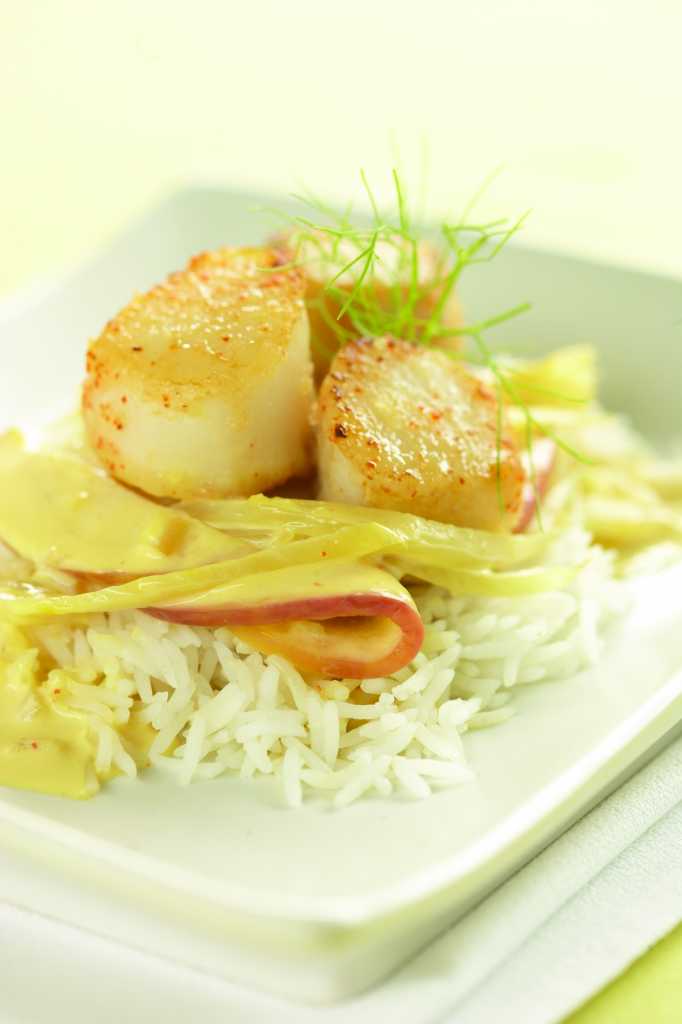 Pan-Seared Scallops with Washington Apple and Fennel in Saffron Cream
This glorious yellow saffron cream highlights the Gala apple's lovely pinkish-red coloring and flavour, and the wonderful taste of tender, seared scallops. Feel free to substitute bass or another firm white fish for the scallops.
Portions: 6
Ingredients
2 tbsp    cornstarch
1/2 tsp salt
1/4 tsp  cayenne pepper
2 lb         large scallops
2 tbsp    butter or oil
1/4 cup                 minced shallots
1              fennel bulb, thinly sliced
1              pinch saffron threads
3              Washingtonapples,
Quartered and sliced
1 cup     35% cream
1 tbsp    minced fennel fronds
Method
In re-sealable bag, combine cornstarch, salt and cayenne. Place scallops in bag and toss to coat evenly.
In skillet, melt butter over medium high heat. Arrange scallops in single layer and cook about 3 minutes per side or until golden and slightly crisp. Transfer scallops to platter.
Add shallots, fennel and saffron to skillet. Cook over medium-high heat until softened and fragrant, about 5 minutes. Stir in apples and cream. Bring cream to boil, stirring occasionally, until slightly reduced and pale yellow. Stir in fennel fronds.
Arrange scallops on warm plates. Spoon apple cream sauce around the scallops and serve with your favourite side dish, such as rice or pasta.
Source: Washington Apple Commission