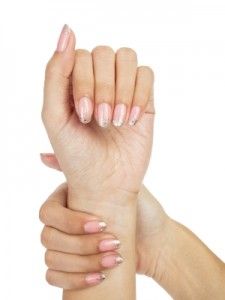 Growing nails is often difficult as they chip, peel and break. But most women love to have long nails so here are few tips which will help you to get long and pretty nails:
Never use them as tools: Often women use their nails as tools for picking, scratching and using mobile phones. Stop using your nails as tools as this stresses the nails and they start chipping .
 Nails shouldn't be naked: Naked nails are more prone to damage. Apply nail strengtheners or nail paint at all times to give additional strength to your nail.
Moisturizing is essential: Moisturizing your hands, cuticles and nails is important. Buy a cuticle oil or apply olive oil at regular intervals to avoid hang nails.
Maintenance is a must: Maintaining you nails is half the battle won! Take care to file them into shape, push cuticles and take regular manicure appointments.
Protection is important: Nails are porous and water can weaken them so wear gloves to wash cloths or utensils.
A healthy diet is also a must for strong nails. How do you maintain your nails, tell us by commenting below: