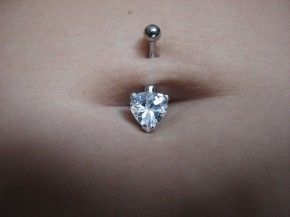 Gone are the days when piercing was confined to ears lobes or nose. Now people are getting wilder and experimental. Over the past few years we have seen stars start or follow the Hollywood trend of piercings. Their navel, tongue and even private parts are pierced to make a cool statement.  Celebrities like Priyanka Chopra, Sherlyn Chopra, Bipasha  Basu and many more often flaunt their belly piercing.
So if you are also thinking about getting pierced keep a few things in mind to avoid any complications or infections later.
Think twice: Getting ear pierced is common but if you are getting it done somewhere else think properly as what may be in vogue today may not be after some time. A college girl with the tongue pierced may look chic but a married lady or a mother will not so think about down the road too. Plus you might get injured or a permanent make. Much like Mandhika who got her chin pierced, after a few months she took of the stone and wanted to close the piercing but today after 5 years the odd gaping hole on her chin is still present.
Choose the studio carefully:  Make sure the studio you plan to get the piercing done has trained and licensed persons for the job. Also make sure about the equipment used.
Select hypoallergenic jewellery: It is advisable to opt for silver or gold pair initially as an artificial piece can lead to allergic reactions. Yes gold and silver might be a tad expensive but it is worth investing in one as the pain and antibiotic routine in case you develop an allergy is not worth it.
Wear comfortable clothes: Try to wear loose and comfortable clothes for few days after getting your navel or belly pierced as rubbing and friction can cause irritation.
Choose the body part:   Carefully choose the body part as piercings in unusual and sensitive areas can lead to scarring and holes that never heal. Also pick a body where piercing can be covered by clothing like belly. whereas an eyebrow piercing might look cool and happening but at formal events you will look foolish.
Don't experiment: Piercing may sound and look easy but it needs skills and training.  So don't don't attempt to pierce as its extremely dangerous and can lead serious health complications.
Don't ignore:  In case you notice any suspect any problem like redness or itching then  consult a dermatologist immediately.
Do not touch: We all have the habit of touching or checking the new thing on our body like a newly inked tattoo or piercing  which is a very bad practice  as the germs on your hand can lead to infections.
Keep medical history in account: Some people develop keloids when they get pierced so if  it has happened before than  its better to consult a doctor before getting pierced  again.