Here are some ways you can try to get rid of uneven skin tone :
Going out in sun can be irritating as it gives us an uneven skin tone which can be a nightmare for many. As women we are always worried about our skin, going in the sun also means dryness, roughness, discoloration, irritation and most importantly your complexion can affect your self-confidence. Many of us choose the option of makeup to cover it, but it is not the right option and this can destroy your skin in the long run. Many products claim to even the skin tone but they never help. We present you some ways that will help you even your skin tone without using heavy makeup.
Stay hydrated

Water
Water is said to be responsible for cleansing our skin and preventing acne and wrinkles. Keeping yourself hydrated helps in making you look young and fresh. Drink at least 5-6 glasses of water daily.
You must moisturize your skin twice daily, in the morning and in the night. Make it a part of your daily routine; you should buy the products which are rich in Shea butter, vitamin E, and coconut oil. It will remove dryness and itchiness from the skin.
Home remedies

Curd and honey
Yogurt is the natural substance to even the skin tone and gives a natural glow to the skin. The lactic acid present in it bleaches the uneven skin tone.  Mix yogurt with warm water and add gram flour, turmeric powder, and honey and apply the paste on the affected areas.
Papaya is a rich source of Vitamin A and E the natural antioxidants help in getting rid of uneven skin tone.  Take 1 tbsp milk in a bowl and add some papaya slice in it, mix it and apply. Papaya removes acne, blemishes and dead skin cells, which leads to even skin tone. For good results do this three times a week.
Eat healthy

Healthy food
Avoid eating junk food; it is bad for your skin and body. Healthy eating can help you get a clear complexion. The sugar, oils, and chemicals used in junk food are harmful to the body. Incorporate healthy eating in your diet like have green vegetables and fruits.
Removing dead skin is very important, it causes many skin problems and to solve them you must exfoliate your skin regularly. You can use spa products or make your own exfoliator at home, mix sugar and honey then apply it in small portions on your face; also you can mix sugar and oatmeal.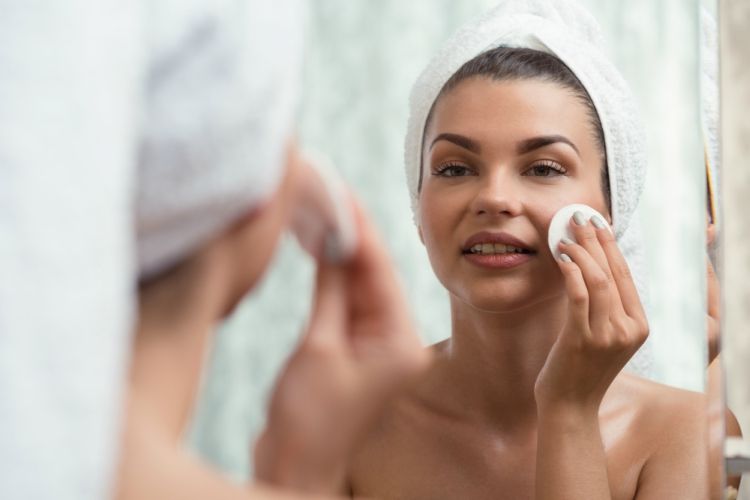 You can use toners; they are a quick solution for the problem and helps in lighting your complexion. Go for the toners which contain natural plant extract.
Cleanse

You must use a mild soap to clean your face and hands from dirt, impurities, and germs. Wash your face at least twice a day this will help in removing the dirt from pores and will give you a clear skin tone.
Try out these easy ways to remove the uneven skin tone from your skin, a few efforts and you will have a glowing skin.