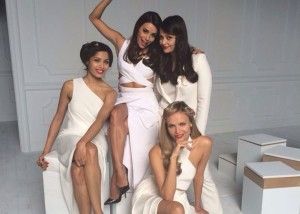 At the spectacular Cannes 2014 film festival it was an afternoon of fashion, beauty and bonding for L'Oreal Paris ambassadors Aishwarya Rai Bachchan and Freida Pinto.
The two who were a part of a special photoshoot for L'Oreal at Cannes were excited to be in each others company. In fact Freida Pinto was excited to shoot with Aishwarya and hugged her when she came to L'Oreal Paris Glamour Room at The Martinez.
Both immediately got chatting about the festival and in fact Freida bonded with Ash as she discussed her daughter Aaradhya. Aishwarya and Freida were also overheard discussing the unexpected delay in Ash's arrival at Cannes which resulted in her missing her first red carpet appearance.(Read here)
Freida was really happy to have gotten a chance to do a shoot with Aishwarya and couldn't wait to see her, L'Or Lumiere inspired, red carpet look.