Anushka Sharma's Bengali accent, dusky complexion in Chakda Xpress make Twitter 'cringe, check out the reactions below:
Actress Anushka Sharma shared the teaser of Chakda Xpress and Twitter has a lot to say about it. Chakda Xpress, the biopic of cricketer Jhulan Goswami, marks Anushka's first film in three years – she was last seen in 2018's Zero. People on Twitter think that this is a bad film for her  'comeback', because of her 'weird' Bengali accent and the poor attempt at darkening her skin.
Jhulan Goswami, a Bengali cricketer, was the captain of the India national women's cricket team. The Chakda Xpress teaser incorporates a line spoken in Bengali by Anushka, which did not get Twitter's approval. "Kintu chinta koro na (But don't you worry)," says Anushka as Jhulan, talking about her ambition of making it big in the world of cricket. Anushka's accent has been termed as 'cringe' and 'horrible' by netizens on Twitter. 
Time to scream HOWZZAT cause we can't contain the excitement to see @AnushkaSharma hitting the wickets like #JhulanGoswami in Chakda 'Xpress, filming soon @OfficialCSFilmz @prosit_roy #KarneshSSharma #AbhishekBanerjee @manojmittra @saurabh0903 @rajneesh_chopra pic.twitter.com/Z0uJoh82jE

— Netflix India (@NetflixIndia) January 6, 2022
A disappointed Twitter user wrote: "Man she isn't even looking half as similar as Jhulan Goswami. Neither in height nor in complexion. Even her Bengali accent is very cringe", while another one added: "The way she's telling 'Kintu chinta koro na. Seems like the filmmakers thought Jhulan was a probasi Bangali (an expatriate Bengali)."
Check out the reactions below:
Bhai ye to koi telegram par bhi naa dekhe tum Netflix par laa rahe

— Delhi Se Hoon BC (@delhichatter) January 6, 2022
The way she's telling Kintu Chinta Koro Na..

Seems like the filmmakers thought Jhulan was a Probasi Bangali… https://t.co/2A1FCquAvz

— ❋ (@Avik_GillStan) January 6, 2022
Man she isn't even looking half as similar as Jhulan Goswami. Neither in height nor in complexion. Even her Bengali accent is very cringe. https://t.co/TArsrAGWJA

— Hriday Shetty (@HridayShetty6) January 6, 2022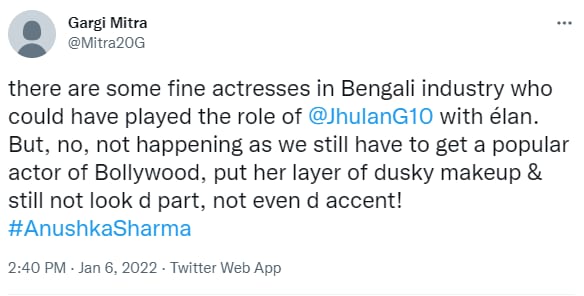 Chakda Xpress, directed by Prosit Roy, will begin filming soon and it will release on Netflix