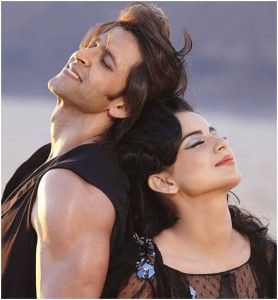 On January 28 this year, Hrithik publicly mocked Kangana tweeting that there are more chances of him having affair with pope than any woman the media is naming. This came after Kangana calling him a silly ex, this war of exes is now dragged to the legal angle. Hrithik Roshan sent a legal notice to Kangana demanding an apology for defaming him.
According to a leading daily, Hrithik sent a legal notice on February 26 via advocate Dipesh Mehta alleging that Kangana is deliberately using the actor's name for cheap publicity.
If believing in sources, the volcano erupted in the year 2014 when the two met at Karan Johar's party. There, Kangana went to Hrithik and thanked him for appreciating her film Queen. Hrithik said he had never congratulated her and haven't seen Queen either. He informed Kangana that email id [email protected] is creating some misunderstanding which is not him; he uses only one email [email protected]****.com to get in touch with friends and fans. Reportedly, Kangana started sending email to his original email id. Sources said that such stuff was absurd and senseless. It has also been reported that Kangana has sent an average of 50 emails a day which totals around 1439 mails. According to sources, Hrithik has not replied to one of them even.
Hrithik has also claimed in notice that there was no personal, social, friendly or intimate relationship between Kangana and him, the girl is just trying to exploit his popularity to gain publicity.
The actor has given 7 days time to hold a press conference and apologize for the same. After receiving this 4 page notice, Kangana wrote a 21 page long note on March 3 where she called Hrithik a liar spreading bogus lies. She felt hurt at KJOs party when the person she was conversing with was not Hrithik. As per Kangana it was Hrithik who shared all those email ids with her. And if she has shared all those videos with him then definitely it's because they were in a relationship.
Reverting back to Roshan's allegations, Kangana quoted that with two national awards in her bag and several hit films she had gained enough publicity which made her the highest paid actress. Hrithik's lawyers have demanded that Kangana should give due respect to him as he is a star with 14 million twitter following.
In an amusing note, contradicting their own claim, the lawyers said that if she does not apologize within 7 days Hrithik will be forced to make all those private chats with Kangana public.
OMG! This episode of Kangana and Hrithik is seriously getting uglier. We will keep updating you on this, till then share the word.