Find out some of the best replies from the #AskSRK session hosted by Shah Rukh Khan:
SRK is the king and most popular celebrity of Bollywood. He has a presence of mind like no other star, be it his interviews, movies, press conference, hosting award shows or interacting with fans on social media, he nails everything with style.
He is a person who loves interacting with his fans and to do this he often hosts #AskSRK session on Twitter in which he replies to his fans. Recently he hosted one of those #AskSRK sessions and as usual, it was super hit. Don't worry if you missed it, we have compiled a list of best answers from the session for you:
He disclosed that trailer of Zero will be released on EID.
Okay, so this is the Official Confirmation by @iamsrk himself thanks to #AskSRK session. #ZeroKiEid https://t.co/RXYaijlNXP

— AAVISHKAR (@aavishhkar) June 6, 2018
2. Fourth child what?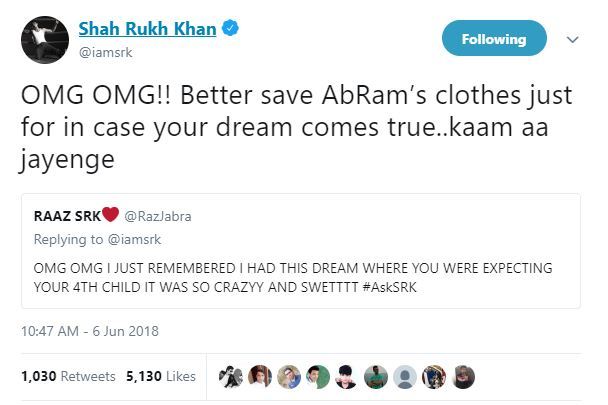 3. Someone told him he is a bigger fan of Salman than him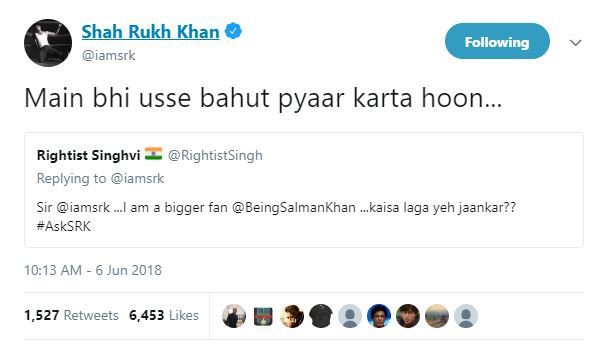 4. A person asked him to wish Messi for upcoming FIFA, his reply was aawww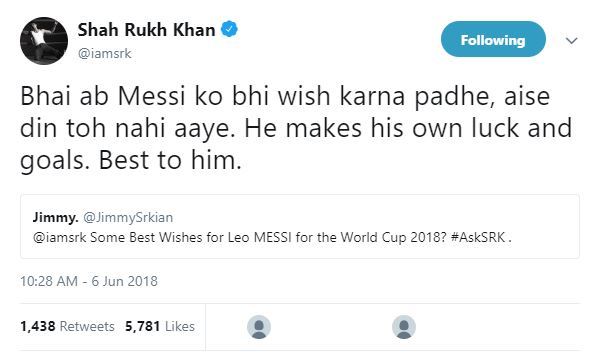 5. This one is amazing, because he is never low
Thank u but my problem is opposite…I am always on a high! https://t.co/fsZXEY6ZHt

— Shah Rukh Khan (@iamsrk) June 6, 2018
6. His love advice
Would have been more helpful with her if she was from Bandra, but all the best man https://t.co/Obz7RljSrY

— Shah Rukh Khan (@iamsrk) June 6, 2018
7. Does he ever feel empty?
I have three beautiful children and a lovely wife and sister..have no space for empty… https://t.co/TUnx1laomz

— Shah Rukh Khan (@iamsrk) June 6, 2018
8. Self-love
I know (sigh) kya Karoon… https://t.co/EwzlbH1msU

— Shah Rukh Khan (@iamsrk) June 6, 2018
9. His general advice to a girl who is stuck on a low paying job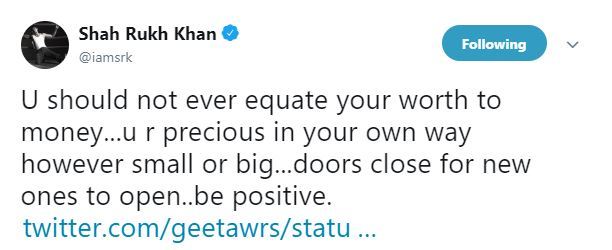 10. His plans for EID
Jahaan bhi honge Namaaz padh lenge aur sabko gale laga lenge https://t.co/LGJHGoMWdy

— Shah Rukh Khan (@iamsrk) June 6, 2018
He seems to have such a positive attitude in real life, he is amazing.
As per the rumors, the teaser of Zero will feature a special appearance of Salman Khan. we are excited about the trailer release.