A designer accuses Hina Khan of wearing borrowed clothes inside the Big Boss House.
Hina Khan tops the list of the most hated contestants of Big Boss 11. A girl who played the role of idol daughter in law on the show Yeh Rishta Kya Kehlta hai for almost 7 years shocked the audience with her negative side in the reality show. Celebrities from the industry also slammed Hina Khan for the same.
Now a designer has accused Hina of borrowing clothes from various designers and promoting them.
All this dates back to the episode where Rohan Mehra visited the BB house and told the actress that she has become a style icon outside. And audience likes her style side. Even, in one of the episodes, Vikas Gupta also told that Hina has brought almost 150 pairs of night suits with her. We all have also seen her wearing different sleepwear daily and stylish dresses as well.
Stylist Neerusha Nikhat slammed Hina over this and revealed the secret of her beautiful dresses.
The stylist tweeted to Rohan:
My dear @rohan4747 @eyehinakhan style icon 😂😂😂 150 night suit 50 pair shoes 100 dresses wow ,, so maang maang ke to koi bhi icon ban jayega 😂😂😂 Thnks god I refused to give my stuff hence I wud have life time regret 🙄 @BiggBoss @lostboy54 @iamkamyapunjabi @shilpashindee pic.twitter.com/WmBcdAITiR

— NEERUSHAA NIKHAT (@NNeerushaa) December 11, 2017
She also posted two screenshots of Hina's stylist Hemlata Periwal's conversation asking to sponsor her clothes: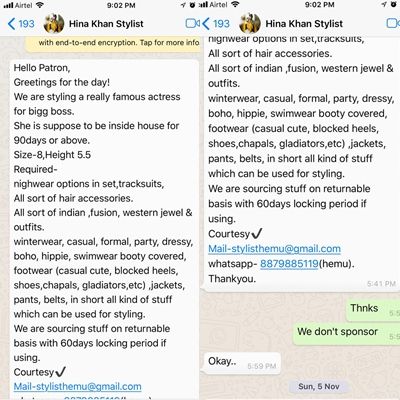 All this made Hemu very angry and in response, she tried to justify the actress and said: Sponsoring clothes is not a big deal for an actress; she will be representing and advertising them on a large platform.
To this Neerusha said:
Of course, it's (sponsoring) a trend; we've sponsored celebs like Mouni Roy, Divyanka Tripathi. But it's my personal choice whom to sponsor. I've seen Hina in two months; she is such a negative and cribbing soul. I don't like her personally. You are wearing 50k lehenga and sweeping floors; wearing a 20K gown and entering into a pool of water! Hina needs to understand what that stylist would be going through, watching it outside. Honestly, she doesn't deserve good person around her."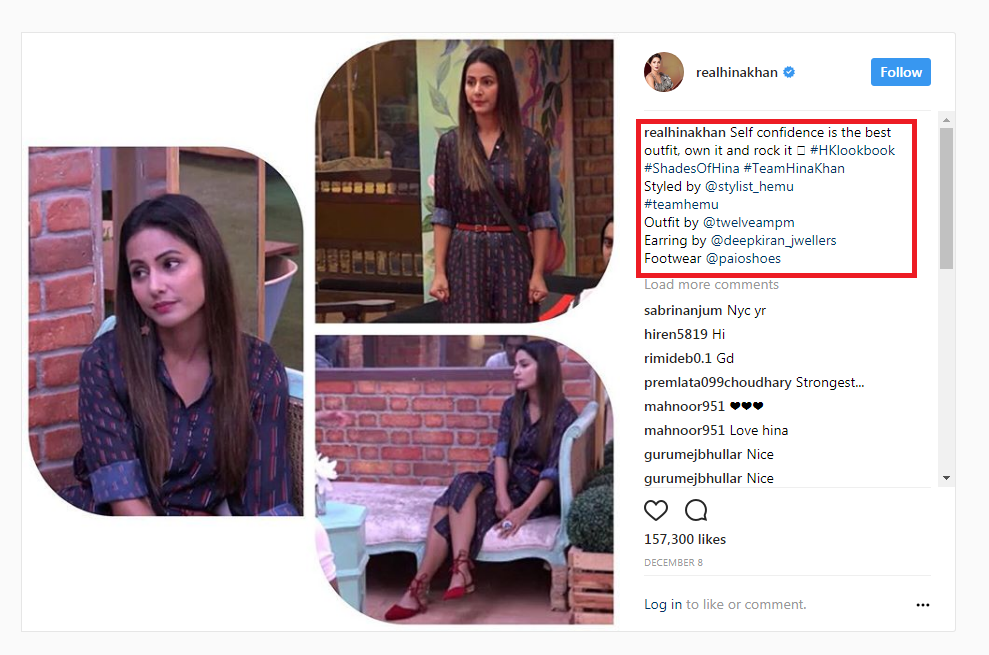 To an extent, all this seems to be correct as her Instagram account posts are a proof of it. All her pictures that are uploaded have a credit mentioned to the stylists.
Look  how people reacted to Neerusha's tweet:
@TheKaranPatel @suyyashrai @KishwerM @isalilsand @RealVinduSingh #BB11 kya celebs aise krte h?😬 if ds is common in industry thn its ok
(But she shouldn't be called as a STYLE ICON thn)
& if its done by only Hina Khan then pls @JJROCKXX do ask her #YehBheekaripanKyaKehlataHai 😂

— Άηυ(AS) (@SamriAnu) December 11, 2017
Karte hai to karte hai btate hai.. chhupa kar usspar jhootha Ghamand to nahi karte.
I have seen her saying @bandgikalara is jealous of my clothes and also commenting on others clothes
Ye kya pehna hai hai issne
Eeuuuwww this woman! @eyehinakhan

— Dr. Anisha Kwatra (@AnishaKwatra) December 11, 2017
Actually she will regret coming to bb once she comes out and opens her twitter account

— simratsohigndi (@simratsohigndi1) December 12, 2017
Omg is this for real? 😂
Fir toh spread kar do rapidly 😂

— Shinde. 💥 (@ShilpaForTheWin) December 11, 2017