Check out Bollywood celebrities tribute to Former PM of India:
Atal Bihari Vajpayee, Former Prime Minister of India, who is known as strongest figures of Indian politics passed away yesterday at the age of 93 due to prolonged illness. He was admitted in AIIMS since June 11 because of bad health. From yesterday morning he was on life support and there was no improvement in his health condition. And in the evening he took his last breathe, it is a big loss for the nation.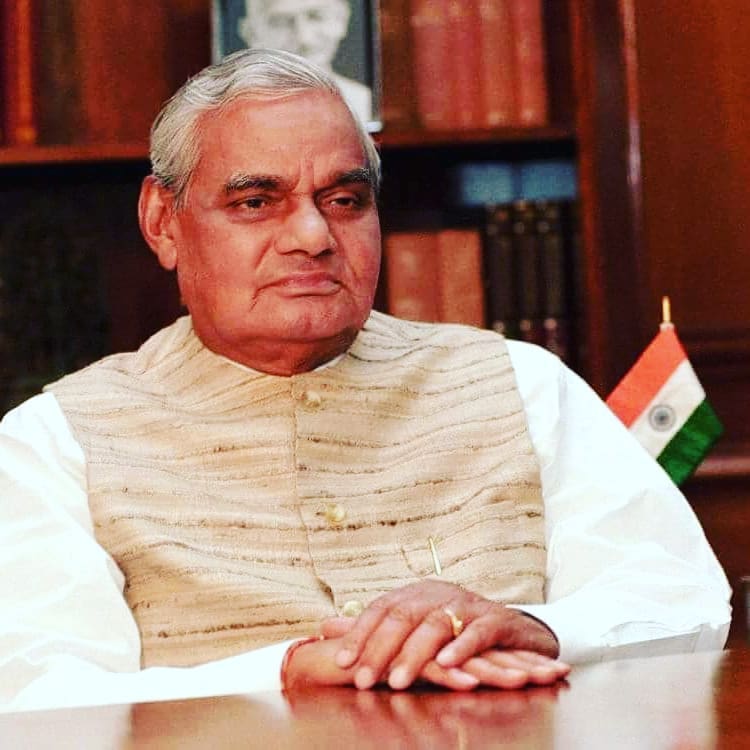 He was a remarkable poet and orator. His death is the end of an era in Indian politics and his place can never be filled.
Many famous personalities mourned his death including Bollywood celebrities and politicians:
It looks like PM Narendra Modi is in a state of shock calling the death of Atal ji his personal loss. He said: "I have no words, I am filled with emotions right now":
मैं नि:शब्द हूं, शून्य में हूं, लेकिन भावनाओं का ज्वार उमड़ रहा है।

हम सभी के श्रद्धेय अटल जी हमारे बीच नहीं रहे। अपने जीवन का प्रत्येक पल उन्होंने राष्ट्र को समर्पित कर दिया था। उनका जाना, एक युग का अंत है।

— Narendra Modi (@narendramodi) August 16, 2018
Look at some of the reactions:
Former Prime Minister Shri #AtalBihariVajpayee's visionary ideas and contributions for India were truly remarkable. The nation will always remember… #RIP
My thoughts and condolences to the family.

— PRIYANKA (@priyankachopra) August 16, 2018
T 2902 – Atal Bihari Vajpai (1924 – 2018 ) भावपूर्ण श्रधांजलि ; एक महान नेता , प्रख्यात कवि , अद्भुत वक्ता व प्रवक्ता , मिलनसार व्यक्तित्व ।
बाबूजी के प्रशंसक , और बाबूजी उनके ..
An admirer of my Father's works and vice versa ; gentle nature, strong fiery in his speeches pic.twitter.com/KtH9HEABkd

— Amitabh Bachchan (@SrBachchan) August 16, 2018
I'm saddened to hear the demise of a great statesman Shri.Vajpayee ji. May his soul Rest In Peace.

— Rajinikanth (@rajinikanth) August 16, 2018
Rishitulya purva pradhan mantri Bharat Ratna Atal Bihari Vajpayee ji ke swargwas ki vaarta sunke mujhe aise (cont) https://t.co/1w1sEjs1eB

— Lata Mangeshkar (@mangeshkarlata) August 16, 2018
It is rare to find love and respect across the entire politcal spectrum.

Atalji, was the rarest of them all.

Alvida #AtalBihariVajpayee.

— Boman Irani (@bomanirani) August 16, 2018
Respect always #AtalBihariVajpayee sir…. RIP 🙏

— Huma Qureshi (@humasqureshi) August 16, 2018
Heartfelt condolences to #AtalBihariVajpayee ji's family and dear ones. May his soul rest in peace. 🙏

— Arjun Kapoor (@arjunk26) August 16, 2018
Indeed a big loss for our country as we pay our last tribute to #AtalBihariVajpayee ji. He was a close family friend and his legacy will forever be remembered. Thank you for your selfless service, sir! My heartfelt condolence to everyone.

— Sanjay Dutt (@duttsanjay) August 16, 2018
Today, our country lost a visionary leader & I lost one of my childhood idols…The passing of #AtalBihariVajpayeeji is even more saddening in light of all that he inspired & accomplished in his time with us. My deepest respect & condolences to his family… pic.twitter.com/fRSgp7ZvkH

— Anil Kapoor (@AnilKapoor) August 16, 2018
For The Poet Prime Minister of our country, love you Baapji…https://t.co/IKTYouMdiy pic.twitter.com/kLO4JAHvNu

— Shah Rukh Khan (@iamsrk) August 16, 2018
Vajpayee ji was one of the founder members of BJP and he served as the Prime Minister of the country three times for 13 days in 1996, 13 months in 1998-99 and then for full tenure of five years (1999-2004). He then announced his retirement from politics in 2005 after suffering a stroke that made him weak.
RIP Shri Atal Bihari Vajpayee ji.