Delhi CM Arvind Kejriwal announced a weekend curfew, check out all the details below: 
The Arvind Kejriwal government has announced a weekend curfew in the state keeping in mind the surge in covid cases. Chief Minister Arvind Kejriwal during a meeting with Lieutenant Governor Anil Baijal today made the proposal to impose a complete lockdown on Saturdays and Sundays.
All spas, auditoriums, malls have been asked to stay closed from Friday evening. Delhi CM said that all essential services will be allowed to run.
"I had a meeting with L-G. We have decided to impose a weekend curfew in Delhi. This is because people generally go out for work on weekdays and entertainment on weekends. So to break the chain we are imposing a weekend curfew, exempting essential services," Delhi CM said. No dine-in options will be allowed in restaurants and eateries.
"Cinemas halls can operate with only 30% occupancy," said Arvind Kejriwal.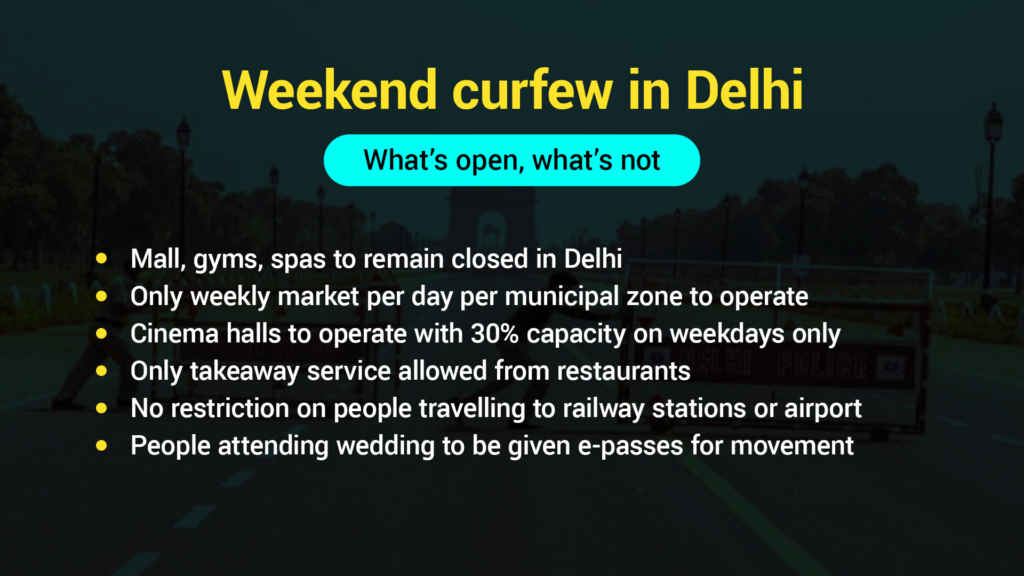 He also said: "These restrictions are for your sake, for you and your families. It will be inconvenient but these restrictions are necessary to break the chain of transmission,". 
Earlier this week, Kejriwal had said that lockdown is no solution to slow the spread of coronavirus cases and that it would be imposed in Delhi only if the "hospital system collapses".
On Wednesday Delhi recorded 17,282 fresh cases of Covid-19, the highest single-day surge since the start of the pandemic. 
Here is how people reacted to this news:
I welcome the decision of Delhi CM.. https://t.co/h5VbWKXdGx

— Jagmohan Kaushal 🏹 #Mission2022 (@JagmohanKausha2) April 15, 2021
But I welcome @ArvindKejriwal decision of weeknd curfew atleast… Thanks

— Aanchalds (@Anchalds) April 15, 2021
Well done👍

— rajiv jacob (@rajivjacob1) April 15, 2021
Why on earth you keep cinema open?????????

— Amit (@Amit79887881) April 15, 2021
Its a good decision. We desperately need it.

— Veer Sorrykar 🙏 (@sorry_kar) April 15, 2021
Atleast – Better late than Never……… More stringent disciplinary norms reqd bcz we ppl are very casual in approach nor do care about others.

— Manoj (@Manoj43858855) April 15, 2021
It appears that CMs of all states are defering another Lockdown to avoid being looked at as a governance failure! These curfews will be of no use, soon state after state will be forced to lockdown. Everyone is waiting for the other to act first!!

— Prasanna Kumar (@prasannakbc) April 15, 2021
Stay home, stay safe!