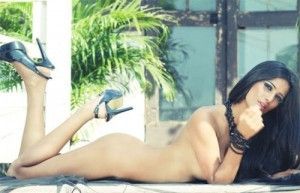 Seems like Team India's captain has the hots for Poonam Pandey! Dhoni finds Poonam Pandey's striptease on Twitter spicy.
At a recent press conference, on being questioned about Poonam's racy pictures, Dhoni replied, "You need to have some spice." He refrained from any further comments, but it reflects the attention this starlet is gathering via social platforms.
Poonam Pandey stripped for KKR's victory this IPL season. Interestingly, Mahendra Singh Dhoni's team lost from KKR! Earlier, too Poonam had promised a nude photograph on India's World Cup win in 2011, but she did not keep her promise. This time she tweeted her nude photos, which made Poonam Pandey one of the most searched people the micro-blogging site. But many people believe the image is a photo-shopped one!