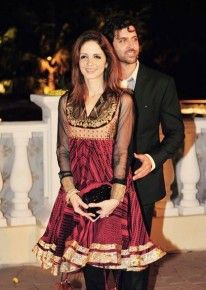 In a news that saddens and shocks us, Bollywood actor Hrithik Roshan and his wife of 13 years, Sussanne have decided to part ways. The couple plan to separate and say that  it is based on their 'individual choices'.
Reports also say that Sussanne's growing proximity with Arjun Rampal is the final straw.But a few months back Hrithik's philandering ways were cited as the reason.
Sussanne released a statement saying that, "We are two individuals who respect and care for each other and have made our own individual choices. We are parents to two wonderful kids and our responsibility remains to protect and take care of them. Nothing can change that." Sussanne and Hritihik have been together for almost 17 years and tied the knot in 2000 after the success of Hrithik`s debut film 'Kaho Naa… Pyaar Hai'. They have two sons – Hrehaan and Hridhaan.
The couple has been in the news for reported news of split twice in the past, sadly this time they both confirmed it. Hrithik is said in the midst of a medical treatment at an undisclosed location abroad and both of them have chosen not to speak to the media and asked for privacy.