Here is how actress Jacqueline Fernandez got trolled over the remake of Bollywood classic Ek do teen:
For quite a long time Bollywood has started making remakes of everything including items songs to movies. It seems these guys have lost their originality and depends on the old music. Just recently the recreated version of Ek Do teen performed by Jacqueline Fernandez was released by Baaghi 2 makers. And fans are not enjoying this rehashed version of Madhuri Dixit's iconic number.
Recently, we have also seen remix versions of Humma Humma, Tamma Tamma, Laila mei Laila and Haseeno Ka Deewana, with the latest versions of these songs, it looks like Bollywood music is all about remix's now. But the latest Ek Do Teen version failed to impress the music lovers, not only social media users but N Chandra and Saroj Khan have also expressed their dislike for the song.
Soon after Jacqueline Fernandez shared the teaser of Ek Do Teen on her Instagram account, people started commenting 'ruined the song, old is gold'. Many users stated this new version as the 'super flop remake'.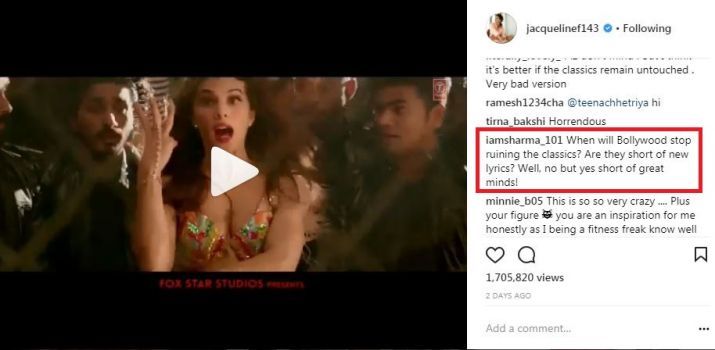 Though co-stars of Jacqueline, Tiger Shroff, Salman Khan and Disha patani came to her support:
During a press conference for the promotions of the film Tiger Shroff and Disha Patani were asked about the criticism Jacqueline has been getting for the Ek Do Teen remake. Tiger supported her and said: "I thought that was expected though. When you touch a remake, you are bound to get mixed reactions. Over here the only idea behind Ek Do Teen was to pay tribute to the legend like Madhuri ma'am. Nobody can match up to her. Let's put that out there and make it clear. That being said, I think Jacqueline worked very hard and did a good job on her part.
Further backing him Disha patani added:  "No, it's doing so well. How many million views! Look at the positive. Views count. Views matter. It's got so many views in one day. People are comparing and you can't compare it to Madhuri ma'am. That is an iconic song. This is just a tribute. It's nothing even close to her."
Amid all this criticism, Salman Khan Jacqueline's Race 3 co-star has come out in support of the actress. And praised the actress for her work in a tweet:
Loved d song, Jackie has done full justice 2 d legendary moves of Saroj khan difficult to match Madhuri. Nice 2 see Varun n Jackie to our songs makes us proud n keeps d songs alive n fans listening, dancing n having a blast. Makes me proud . Enjoy Karo !https://t.co/qQ6nfnSAD1

— Salman Khan (@BeingSalmanKhan) March 21, 2018
Whereas, the man behind the original composition Tezaab director N Chandra,  is upset with the makers of Baaghi 2. He said, "I can't believe they've done this to 'Ek do teen'. It's crass beyond imagination. And Jacqueline Fernandez doing Madhuri Dixit's number? Give me a break! It's like turning the Central Park into a botanical garden. Madhuri danced with such grace and innocence. Anyone can do anything to your creation just because there are no laws to protect our property. I remember some years ago, R.D. Burman's 'Dum Maro Dum' had been similarly vandalized."
The remake of "Ek Do Teen" is a part of the upcoming film "Baaghi 2". The song was originally filmed on Madhuri in the film "Tezaab", and was choreographed by Saroj Khan. After the song released on YouTube on Monday, the video received much negative feedback from fans on social media.