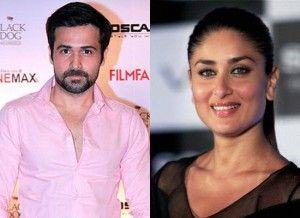 Seems like Bollywood's serial kisser, Emraan Hashmi got lucky. Emraan Hashmi will be shooting a love scene with Kareena Kapoor Khan!
Kareena shocked the makers by agreeing to do a steamy scene with Emraan.  Reports say it was the producer of the upcoming film Ekta Kapoor, who convinced Kareena that the scene was  significant to the story. And Kareena agreed immediately.
Kareena Kapoor has gotten intimate on-screen a couple of times. She had a cozy song with Saif Ali Khan in Kurbaan. 
The Emraan-Kareena starer has been titled Badtameez Dil and is being co-produced by Ekta Kapoor's Balaji and Karan Johar's Dharma productions.