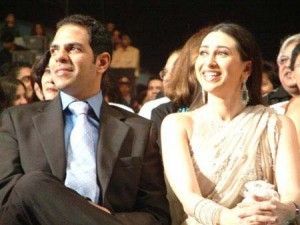 Preparations for the Saif-Kareena wedding are on full scale but on the other hand sister Karisma's husband Sanjay Kapoor is preparing to play spoilsport.
According to some media reports Sanjay is keen on inviting his current girlfriend Priya Chatwal to Saifeena's wedding. Neither Karisma nor his family are in favor of his decision and are trying to convince Sanjay. But stubborn Sanjay is not ready to listen to them and even threw a glass of wine on his sister Mandira who is very close to Karisma during the argument
Sanjay and Karisma's marriage has been on the rocks for many years, in fact Karisma had tried to divorce him in the past. The couple has two children.
The Saif-Bebo marriage is turning into a potential face-off ground with Karisma, Priya Chatwal and Sanjay. Here's hoping Saif doesn't invite ex-wife Amrita!