Luka Chuppi Trailer resulted in Memes: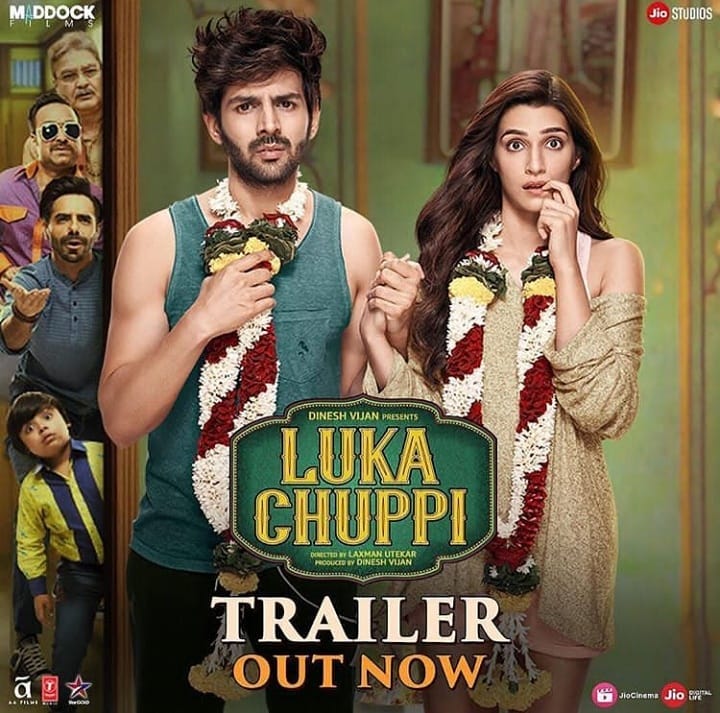 Ever since we heard that Kartik Aaryan will be starring opposite Kriti Sanon, we were curious to see them on screen. Finally, the wait is over as the trailer of their upcoming film Luka Chuppi is out.
It is a cute love story of a couple who has completely different views towards marriage. The trailer is a perfect blend of romance and comedy, the plot is also very different. Aaryan's character Guddu wants to get married and stay together while Kriti's character wants a live-in relationship. Immediately after the promo of the movie got released, two of its scene resulted into a flood of memes and jokes on Twitter.
Check out the trailer here:
Check out the memes here:
#LukaChuppiTrailer
Jamie Lannister – * Touches Cersei for the first time*

Cersei – pic.twitter.com/VPb5qVun5x

— Bollywood Gandu (@BollywoodGandu) January 24, 2019
#LukaChuppitrailer
When at Functions Random Relatives ask me beta shaadi kab kar rahe ho..? pic.twitter.com/Q9Wy6Cmxp9

— N I T I N (@theNitinWalke) January 24, 2019
*when gol gappe Wala skips her turn*#LukaChuppiTrailer pic.twitter.com/j0Ib8pyKfb

— Tweetera🐦 (@DoctorrSays) January 24, 2019
Whenever a guy makes video on TikTok.

People:#LukaChuppiTrailer pic.twitter.com/HgRFzuuOkr

— Anshul Mahajan (@2794_anshul) January 24, 2019
When he / she Uninstall PUBG Because of exams #LukaChuppiTrailer

Pubg lover – pic.twitter.com/r6mDZuGsoa

— Pranjul Sharma 🌞 (@Pranjultweet) January 24, 2019
When your bestie is still in touch with your Ex#LukaChuppiTrailer pic.twitter.com/ozHKAVVoty

— micrOOrganism. (@sainti_kumar) January 24, 2019
When you are on a date with bae but see bua ji coming pic.twitter.com/0K8OJHEPFf

— SwatKat💃 (@swatic12) January 24, 2019
When Google Maps is suggesting a right turn but your Autowala takes a left. #LukaChuppiTrailer pic.twitter.com/8CMILYRyJs

— Bade Chote (@badechote) January 24, 2019
#LukaChuppiTrailer
When ever i text "HI Dear" to any
girl 😂😂 pic.twitter.com/VGijSVA6rk

— Washer ali (@washersrkian1) January 24, 2019
*When Hardik Pandya reached his home after that #KoffeeWithKaran show*
*His family member to him*

#LukaChuppiTrailer pic.twitter.com/e5nrE0SEyP

— Subham (@subhsays) January 24, 2019
#LukaChuppiTrailer
*When your male best friend tries to flirt with you*
You : pic.twitter.com/eGF6y4Zy3V

— sarcastic_ladkaa 🙃🙃 (@Unsakht) January 24, 2019
when someone sprinkles sugar on my poha #LukaChuppiTrailer pic.twitter.com/lmpyXR5g8g

— Jurno (@jurnoleast) January 24, 2019