Kedarnath scene turned into viral meme:
Recently the trailer of Kedarnath starring Sushant Singh Rajput and debutant Sara Ali Khan was released. Since the trailer launch, many people praised Sara for her superb acting and few also got upset with the story's plot. No doubt most of the people are eagerly waiting for the film to hit the theatres. But before that one of the scenes in the trailer of Kedarnath has caught the attention of meme makers and we are having a good laugh.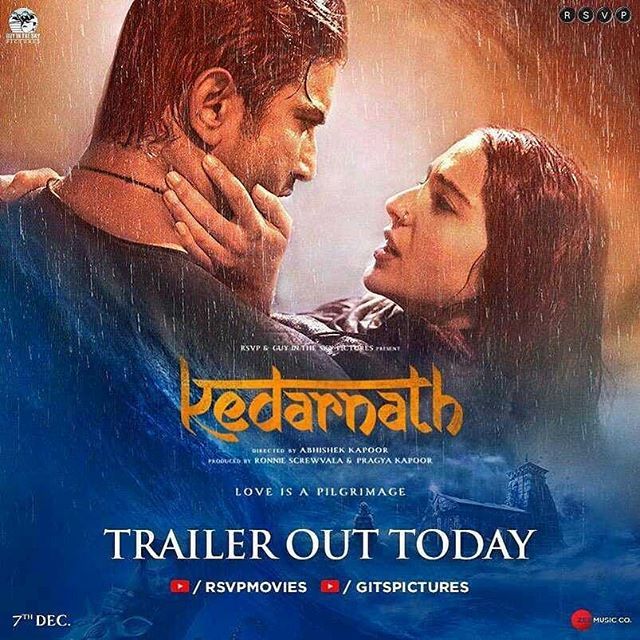 The movie is based on the Uttarakhand tragedy of 2013 and along with that it also has a dramatic touch of love story. Sara is playing a role of Mukku, a Hindu girl whereas Sushant is playing the role of Mansoor, a Muslim porter. The twist in the story is that they both fall in love with each other but Mukku's family is against it.
As seen in the trailer this is the scene where Mukku's father played by Nitish Bharadwaj is angry,  oppose his daughter's relation with Mansoor and says, "Nahi hoga yeh sangam, phir chaahe pralay hi kyun na aajaye. This shot has gone viral and turned into floods of memes all over social media.
Something similar happened to SRK's Zero and Anushka's Sui Dhaaga trailers too.
Check out the trailer here:
Check out the memes here:
#KedarnathTrailer
Friend- Pineapple on Pizza?
Me- pic.twitter.com/lTFwTINu1E

— Anshuli Soni (@UnShoeLeee) November 13, 2018
Me : Which is your favourite TV show?

Tinder Date : Bigg Boss

Me : pic.twitter.com/IHyo3yFCuO

— Bollywood Gandu (@BollywoodGandu) November 13, 2018
When you want to buy an iphone in a middle class family
.#meme #KedarnathTrailer @CutestFunniest @rahulastic pic.twitter.com/B0Nz51wGdB

— Mayank (@biharimemer) November 13, 2018
Me : I will sleep early tonight

Social Media apps : pic.twitter.com/NqoxnNVUJ1

— SwatKat- The dancing human💃 (@swatic12) November 12, 2018
Me : I am planning to meet my old friends in Goa

Parents : pic.twitter.com/TSzL0ALzvy

— SAGAR (@sagarcasm) November 12, 2018
People: Love marriage karni hai?

Indian parents: #KedarnathTrailer pic.twitter.com/r0NFiECek3

— Pranjul Sharma 🌞 (@Pranjultweet) November 12, 2018
Me and Mumbai Local Window Seat. 😪 pic.twitter.com/As9hQg9snR

— Thain Thain Chikna (@Madan_Chikna) November 12, 2018
*Hindu Muslim bhai bhai*
Politicians ~ pic.twitter.com/67jLBie5de

— Bruce Wayne 🦇 (@WaizArd20) November 12, 2018
*Me As father*

Son – Papa main bhi tik- tok pe video bnaaunga !

Me – pic.twitter.com/FBPccsDXaT

— 🔥 दीप- Anshu 🔥 (@DhakkChampion) November 12, 2018
Delhi will be pollution free pic.twitter.com/ps0i1pcC9z

— Sachin Chaurasia (@i5achin) November 12, 2018
#KedarnathTrailer#IndianCouples– Let's marry.

Meanwhile #Janampatri.👇😂 pic.twitter.com/JHnEMNJJip

— नादान परिंदे🇮🇳 (@Gauri_doonite) November 12, 2018
*Jetha Weds babitaji*#KedarnathTrailer pic.twitter.com/08zo59Ners

— Tweetera🐦 (@DoctorrSays) November 12, 2018