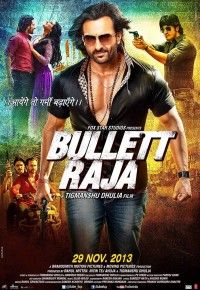 If you planning to watch Bullett Raja over the weekend just go through its review to know is it worth a watch or not. Read it out
Cast: Saif Ali Khan, Sonakshi Sinha, Jimmy Shergill, Vidyut Jamwal, Gulshan Grover, Ravi Kissen
Director: Tigmanshu Dhulia
Rating: 3.5/5
Story: The story is about Brahmin man Raja Mishra (Saif Ali Khan), who is almost about to take up a job but becomes a victim of the corrupt system. This forces him to take the law in his own hands and soon the simple youth transforms into a dreaded UP gangster, who lives life by his own rules. During all this Raja proves to be a loyal friend to Jimmy Shergill and his heart beats like never before for Sonakshi Sinha. Raja is supported by Raj Babbar, a local politician who wants to get rid of him. In all this Raja loses his dear friend and in the battle to avenge his friend's death the film travels from Uttar Pradesh to Mumbai to Kolkata.
 Music: It consists of 7 tracks including a remix version composed by RDB and Sajid-Wajid and lyrics written by Sandeep Nath, Kausar Munir, Shabbir Ahmed and Raftaar. Tamanche pe disco, gets you in the dance mode from the first notes. The romantic track saamne hai savera is also nice. The title track sounds very similar to Dabangg.
 Why you should watch this movie: The movie is worth a watch for its well constructed scenes, dialogues, story, Saif Ali Khan's acting, the fresh new pair: Saif and Sonakshi and their amazing chemistry. Vidyut Jamwal's stunts are worth a watch too.
 Why should miss this movie: The movie is not for those who don't like action films which are high on violence and fights.
Special mention: A special mention about the interesting dialogues of the film like, "Brahmin bhookha to Sudama, rootha toh Ravan".