All 4 accused in Telegana murder and rape case killed in encounter:
The whole nation was in shock after the brutal rape and murder case of Priyanka Reddy. We all felt the need for strong law and finally, the police have taken a great step. All four accused in Telangana veterinarian's rape and murder case were killed in an encounter at 3:30 am on Friday, Cyberabad police said.
As per the officials, the accused were taken to the crime scene for recreation of the incident when they tried to escape. The police officers then had to open fire and shoot. The men were rushed to a hospital. However, they succumbed to bullet injuries.
The men, identified as Mohammed (26), Jollu Shiva (20), Jollu Naveen (20) and Chintakunta Chennakeshavulu (20), were arrested on November 29 for allegedly raping and killing the woman by smothering her and later burning her body.
The four accused had been remanded to police custody by a Shadnagar court for seven days, only yesterday.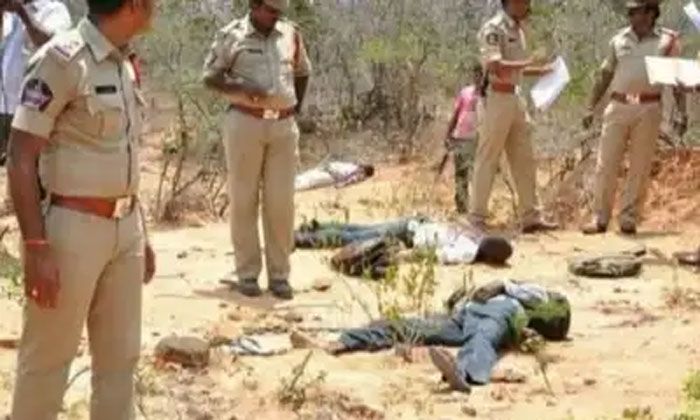 Responding to the incident, the victim's father said his daughter's soul "must be at peace now." "It has been 10 days to the day my daughter died. I express my gratitude towards the police & govt for this," he said.
As per the police, the victim was trapped and killed by the four accused after one of the tires of her scooter has been deflated when she reached to pick her parked vehicle to return home. They then carried the body of the victim to a place 28 km away from Shadnagar town and set it on fire. Only her charred remains were found.
The state government earlier passed an order, setting up a special court (fast track) to try the case which caused national outrage with protests across the country.
Check out people's reaction to this encounter:
Locals bring flowers to the Hyderabad #encounter site. Could there be anything more symbolic of public faith in judiciary being extinct? Especially when it comes to rape. The atmosphere was ripe for what happened today. pic.twitter.com/fJKDDZkVFZ

— Shiv Aroor (@ShivAroor) December 6, 2019
Conflicted on the #encounter justice by @hydcitypolice. Happy that the scum are exterminated like cockroaches, they deserved to die rather than linger in jail on tax payer's money, and then be let out coz they were underage. But encounters speak of a deep rot in the system!

— Shefali Vaidya (@ShefVaidya) December 6, 2019
CV Sajjanar is the Man who led the Encounter of Rapists in the Hyderabad rape case.

In 2008 he led a team that killed three who'd thrown acid at two girls.

He was hailed by thousands then & he's been hailed now.
A bold man who gives the kind of justice required.#Encounter pic.twitter.com/4CT7ZKtLsh

— Hari Shankar Meena (@HariSha86036472) December 6, 2019
#Encounter All natation should celebrate this #Encounter well deserving verdict finally.
All four monster are encontrered today. pic.twitter.com/B4rDWrsF2c

— Inder Ghanchi (@GhanchiInder) December 6, 2019
No human rights for rapists and terrorists. Let's become a country that doesn't negotiate with beasts. Satyamev Jayate.#Encounter

— Sonam Mahajan (@AsYouNotWish) December 6, 2019
#Encounter plz support Telangana Police one retweet one salute for him. pic.twitter.com/faBdjX1gdI

— Deepak Kumar (Dipu) (@dieepakkumar) December 6, 2019
Rest in Peace #DrPriyankaReddy. Rest in peace. 😢❤️ I Hope this sends a STRONG message out to all those people who even have the THOUGHT of raping a woman.. Rest in Peace Priyanka 🙏🏻 #hyderabadpolice 👏🏼 #PoliceEncounter #HyderabadHorror #Encounter

— Pooja Hegde (@hegdepooja) December 6, 2019
Justice served right,
We salute you, sir

I am sure this bravery💪 will motivate other Police Officers 👮 to serve them justice.

#Encounter pic.twitter.com/bDunGVx4Z0

— Khushi singh (@Khushiiii___i) December 6, 2019
Everyday we start our day reading, viewing news of rapes, gangrapes then murders.
But today, its the best news to start the day.
All policemen should be awarded. #Encounter #Priyanka_Reddy #HyderabadPolice pic.twitter.com/yMZ7N5IwXp

— Shahnawaz Ansari (@shanu_sab) December 6, 2019
Jaha Crime Scene Tha Wahi Lejaake Thokha 😎

A big Salute To Hyderabad Police For This Rightful #Encounter
You Saved 10 Years Of Hearing,100s Of Dates,Uncountable Mercy Petitions

Even If It was not encounter. As we all know 😂
But this was much needed
No Mercy To Rapists pic.twitter.com/eQMViyg9do

— AMAN 💚 (@Aman__Srk4life) December 6, 2019