Check out the ugly Twitter fight of Sania Mirza and Veena Malik:
The Pakistan cricket team and its fans are still trying to overcome their big defeat from India in the ICC 2019 WOrld cup, an interesting story is building up around Shoaib Malik and his Indian wife Sania Mirza. The Pakistani batsman is facing questioning from the experts and fans alike for his poor performances on the field. To make matters worse, a video of him and his wife enjoying hookah with friends at a restaurant is going viral, allegedly on the eve of the match against India.
The video was uploaded one day before the match and Sania who noticed it put out an angry tweet against the uploader the same day. The account which tweeted his video has been deactivated.
However, after Pakistan's defeat where Shoaib was dismissed for a first-ball duck, this video became viral and was used to target Malik and question his commitment to the team. Among the many Pakistanis who responded to it was an actress and celebrity Veena Malik.
Sania, I am actually so worried for the kid. You guys took him to a sheesha place isn't it Hazardious? Also as far as I know Archie's is all about junk food which isn't good for athletes/Boys. You must know well as you are mother and athlete yourself? https://t.co/RRhaDfggus

— VEENA MALIK (@iVeenaKhan) June 17, 2019
She put out a tweet addressing Mirza and pointed out to her for taking her infant child to a sheesha bar as well as visiting a place which serves unhealthy food that is not good for her husband.
Sania did not let this go and decided to respond to this and replied on the same platform. The tennis star refutes the allegation of taking her son to a sheesha bar and tells Veena to mind her business. She also answers the comment about junk food by saying that she isn't responsible for the diet of Pakistani cricketers.
Veena,I hav not taken my kid to a sheesha place. Not that it's any of your or the rest of the world's business cause I think I care bout my son a lot more than anyone else does 🙂 secondly I am not Pakistan cricket team's dietician nor am I their mother or principal or teacher https://t.co/R4lXSm794B

— Sania Mirza (@MirzaSania) June 17, 2019
But, Veena also did not stay quiet, she also responded to Sania's statement with a series of tweets. Check them out below:
Have some guts & don't delete ur tweets.Fortunately the technology has progressed so much that people can't deny their acts.Oh the magazine's cover u mentioned had morphed images.Also I can bringup all the controversies U have ever had bt I would rather not divert the discusion. pic.twitter.com/8qednFvEBz

— VEENA MALIK (@iVeenaKhan) June 17, 2019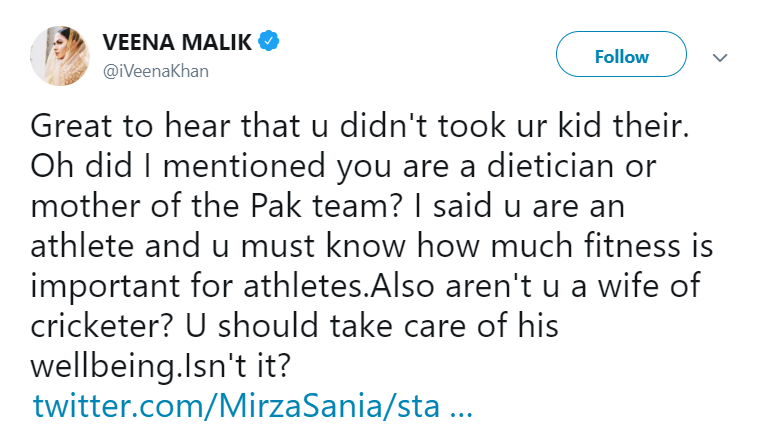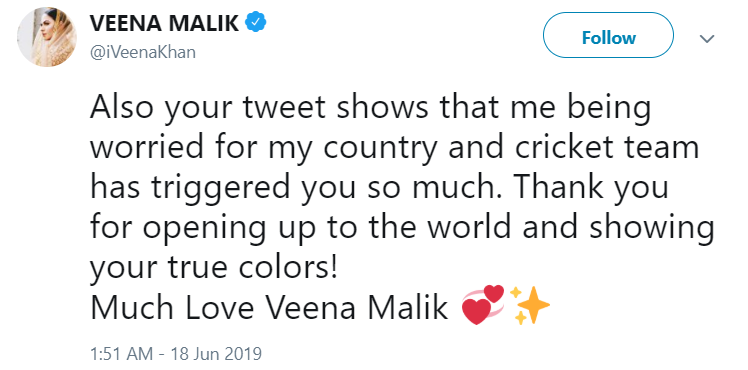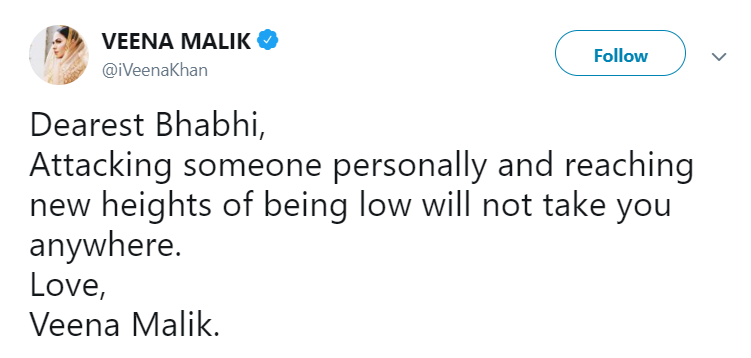 Twitter cracks me up 😂 and some ppl for sure .. you guys really need other mediums of taking your frustrations out ..
peace out guys ✌🏽 it's break time 😉

— Sania Mirza (@MirzaSania) June 17, 2019
This match is more interesting than India Vs. Pakistan.