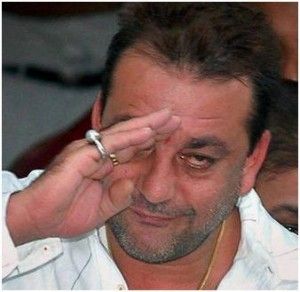 Actor Sanjay Dutt has been released from Pune's high-security Yerwada Central Jail today morning after completing his five-year sentence for his role in the 1993 Mumbai serial blasts.
In 2013, Dutt was sentenced to five years of imprisonment. He had already served 18 months behind the bars after being jailed in 1996, and so was ordered to serve the remaining 42 months. Dutt's prison sentence has been mired in controversies due to the repeated paroles and furloughs he obtained..His full sentence period would have ended in November this year, but after being granted remission of seven days per month, his date of release was set around February end. The remission was granted to him based on his behaviour in jail.
Dutt was kept in solitary confinement due to security reasons and earned a daily wage of Rs 50 for making paper bags. But according to the prison authorities he spent most of it buying items of daily need from the prison canteen.
After coming out Dutt saluted the Indian tricolor fluttering atop the jail building. Sanjay Dutt's wife Manyata and their children, sister and ex-MP Priya Dutt and her family, filmmaker Rajkumar Hirani, his lawyers, thousands of fans and a huge media were there to receive him. From the Mumbai Airport, Dutt will proceed straight to the famed Siddhhi Vinayak Temple in Dadar west to offer thanksgiving prayers.
Do you wish to see him on screen again? Comment below