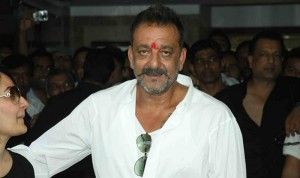 Munna Bhai has just walked out of jail after completing a sentence for 1993 Mumbai blasts Sanjay Dutt said that he, along with Zeeshan Qureshi and Sameer Hingle (his jail mates) wrote near about 500 shers. Dutt said some of them are based on real life instances like when his wife Manyata came to visit him even after suffering from fever . . . he felt really bad at that moment.
The actor announced to publish all that work as a book in Hindi language which shall be titled as 'Salaakhen'. He added that he never thought of writing something, whatever he has written are his pure feelings. When asked about future plans, the actor said that he wants to be with family, spend some quality time and after that he wishes to back to work as soon as possible as he missed flashes, lights, camera, action a lot.
Right before Dutt's release there were many films announced for him, like Siddharth Anand's Action Drama, third series of Raj Kumar Hirani's much loved Munna Bhai series, director Indra Kumar's third part of Dhamal. Also, Rajkumar Hirani, a close friend of Sanjay Dutt is working on his biopic starring Ranbir Kapoor.
Last weekend, the actor was seen partying with his friends and looked cheerful and relaxed.
*Image Source : Images are taken from popular websites.