Dulha Sits At Computer On Suhaag Raat While Bride Waits, Picture triggers meme Fest on the internet:
Being committed to your work is one thing, but some people take it to another level by doing it at their wedding as well. Previously,  a bride was seen supposedly working on a laptop at her shaadi's venue while the groom stared at her with a confused expression. 
And now one more such instance has come to our notice, an Indian groom is sitting at a desktop computer while his newly-wed bride sits in the background waiting for him, looking visibly annoyed. As both of them are dressed in wedding attire, it seems to be their first night. 
Here is the picture: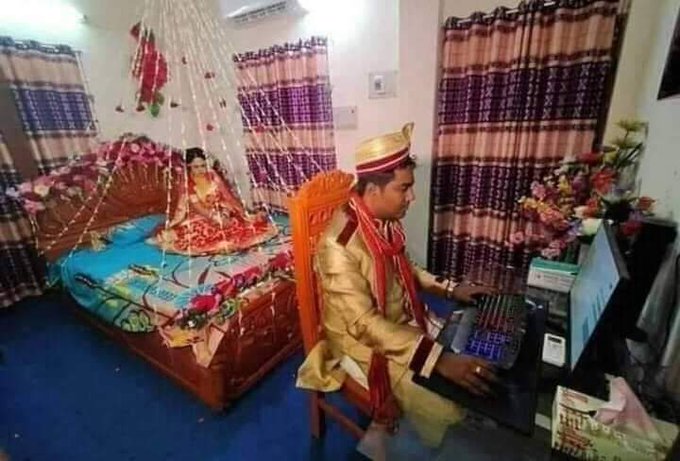 And obviously, in no time there were memes all over social media, Check out the best ones below:
"hold on babe let me check my twitter notifications first" pic.twitter.com/Fz9qjDrKj9

— paneer (@albertkamuh) February 9, 2021
"Omg. Did you see how much Doge coin is surging?" pic.twitter.com/SGChjBbYOF

— That Goan Guy (@schmmuck) February 9, 2021
Hold on babe, can you believe Kangana just compared herself to Meryl Streep! pic.twitter.com/VrfZKQBLlm

— Prashant (@prshnt_here) February 9, 2021
hold on babe let me make one more dancing frog video pic.twitter.com/0mC6Z3AyoD

— s (@ghammmhours) February 9, 2021
"hold on babe let me play one league of legends ranked match real quick" pic.twitter.com/LR1haZJqJx

— シ (@shinigamibey) February 9, 2021
"hahaha she just compared himself to Meryl Streep AND Gal Gadot. Can you believe it??"

"ok" pic.twitter.com/Q3wEEFlkab

— W. Kamya Bell (@nah_im_abdulla) February 9, 2021
What do you think the groom would be doing?