Twitter is all memes After CBSE Cancels Class 10 Boards, Postpones For Class 12:
Currently, India is battling with the second wave of the coronavirus pandemic. Some states have also imposed curfews and partial lockdowns to handle the situation. Hence, keeping in mind the positive cases and the safety of students in mind, CBSE class 10 board exams have been canceled and class 12 board exams have been postponed. 
For the past few weeks, students took to social media to demand the postponement of board exams. For the same reason the Education Ministry, after consulting with PM Modi, decided to halt the exams. The new dates for class 12 boards will be announced on June 1.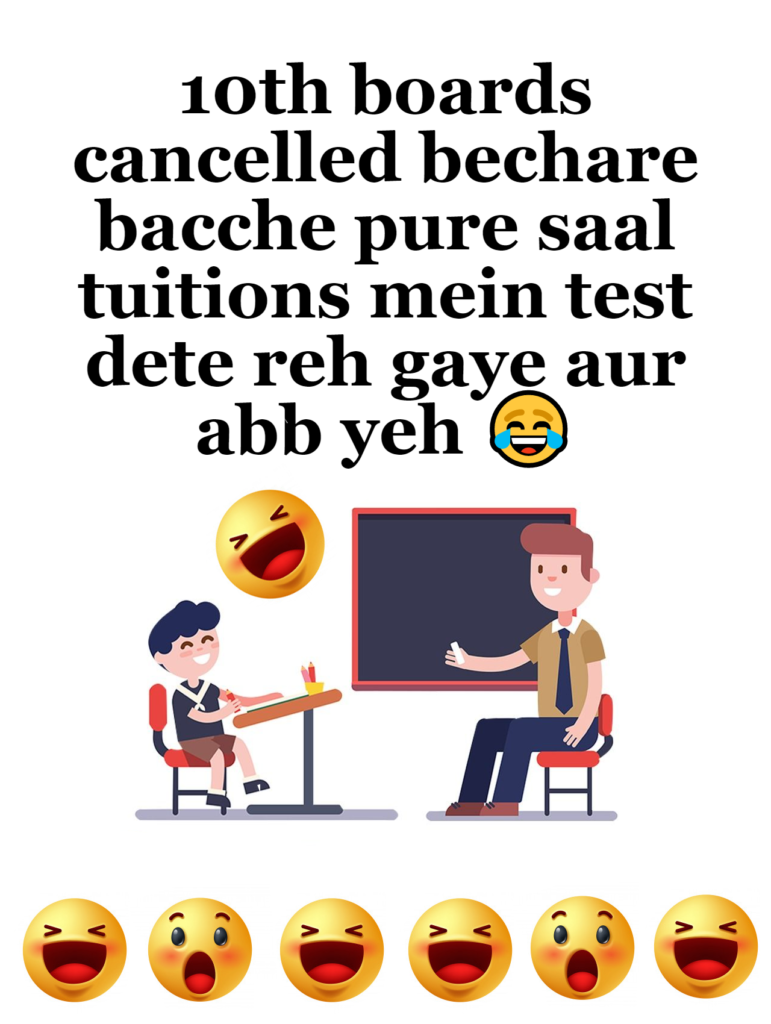 The class 10 results, the minister said, would be prepared "on the basis of an objective criterion to be developed by the Board" and students not satisfied with their marks would be given the chance to take the exams whenever they can be held. 
As soon as the announcement was made CBSE students across the country have been celebrating with memes! Check out the best ones below:
Here are the best memes:
#cbseboardexams2021
CBSE class 12 exam postponed and Class X exam cancelled

Meanwhile ICSE and state board students : pic.twitter.com/6oH3JSK7Ya

— ⍟ (@rishabh_memes) April 14, 2021
After watching that CBSE cancelled class 10th board exams 2021*

We ICSEians be like:#salim_casm#cbseboardexams2021 pic.twitter.com/W8w3oo9yhw

— Abu Salim (@salim_casm) April 14, 2021
Exams cancelled for CBSE 10th class
Le students: pic.twitter.com/RIzGrfXxkq

— OmG Says (@bymistake_memes) April 14, 2021
Someone: Bhai 10th CBSE ke exams cancle ho Gaye hai Tu toh 12 th Mai hai na Teri hone wale hai
Le frustrated me: pic.twitter.com/FCZmUrYC5k

— OmG Says (@bymistake_memes) April 14, 2021
After #cbseboardexam2021 cancelled & postponed.

Topper : pic.twitter.com/srMuPpWMc6

— CBSE Wale Bhaiya (@CBSEWaleBhaiya) April 14, 2021
CBSE class 10th boards exams 20-21 got cancelled.
le john from icse pic.twitter.com/Ao5BfAyeDs

— provider. (@ihardikkkk) April 14, 2021
Breakingg…. #cbseboardexam2021 cancelled for Class X Students nd Postponed for Class XII Students…

Meanwhile Class XII Students to #CBSE nd #educationMinister
pic.twitter.com/RwtKRpwo9o

— Prince (@TheLolnayak) April 14, 2021
#cbseboardexam2021
Le students after hearing Modi meeting with Education Minister. pic.twitter.com/JG956K8Alr

— Nitu Raj (@realnituraj) April 14, 2021
After seeing that#cbseboardexam2021
Class 10 exam cancelled.
Class 12 students be like pic.twitter.com/cBWpiyD19d

— Ckmkb (@Ckmkb18) April 14, 2021
All The 10th and 12th Students To
Government And @PMOIndia#cbseboardexam2021 pic.twitter.com/Gu7YBjrC4n

— Rishab Singh (@Rishabisback) April 14, 2021
#cbseboardexam2021 class 10th cancelled & class 12th postponed.

le students : pic.twitter.com/jnEalpGpOZ

— Rare (@madwomansays) April 14, 2021
#cbseboardexam2021
Parents of Xth CBSE students after wasting Money in tution and coaching:- pic.twitter.com/oaJf27vThP

— AS(k)D (@Cyber_Altruist) April 14, 2021
#cbseboardexam2021
Class 10th students right now pic.twitter.com/sMs1YT5QZw

— SHWETA (@shwetaas3) April 14, 2021
#cancelboardexams2021 #cbseboardexam2021 #cancelboardexam2021 @DrRPNishank @VarshaEGaikwad

Le 12th students now : pic.twitter.com/IH35YvjZwe

— Amey Wani (@wani_amey) April 14, 2021
#cbseboardexam2021
Board exam of class 10th
is cancelled .
10th student.. pic.twitter.com/lzGxr9blZ6

— ashfaq (@unknown_devil05) April 14, 2021