As new Covid strain spreads in the UK, Twitter filled with #MutationMemes: 
As 2020 is about to come to end, our expectation of a happy, brighter, and coronavirus-free 2021 was high. But all of it was broken when a new strain of Covid-19 was found in the UK. Prime Minister Boris Johnson announced that this new strain is 70 per cent more infectious than the OG virus, reports Business Today.
The UK PM also announced that the country won't be celebrating Christmas this year. 
Given the early evidence we have on this new variant of the virus, and the potential risk it poses, it is with a heavy heart that I must tell you we cannot continue with Christmas as planned. (2/3)

— Boris Johnson (@BorisJohnson) December 19, 2020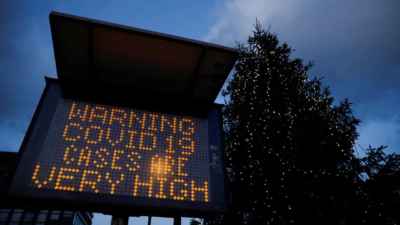 However, Indian-American physician Dr. Vivek Murthy said that the new strain doesn't appear to be any deadlier.
He said: "This news from the UK appears to be about a new strain of the virus that's more transmissible, more contagious than the virus we've seen prior to this," He added, "While it seems to be more transmissible, we do not have evidence yet that this is a more deadly virus to an individual who acquires it." Deadlier or not, the news of the new variant of coronavirus has saddened us all.
Showing their disappointment, people took to Twitter and started sharing memes and jokes about the new mutation. Check out the memes: 
People getting acsited for vaccination #mutation
Le corona 2.0 pic.twitter.com/A0gzfd7RgN

— Damon (@Damon_59) December 21, 2020
#mutation #UKlockdown #COVID20
Children to dad :-. Where is my NEW YEAR SURPRISE

Corona2.0:- "BABY"; here is your surprise
Holidays for another year 😂😂🤣 pic.twitter.com/GjMN0rIS4C

— MICHAEL (@Michael70274) December 21, 2020
Plz be 2021 🎁 #mutation #UKlockdown pic.twitter.com/XQXGQhdr1j

— Aakash Tiwari (@iaakasht) December 21, 2020
#mutation
People in India be like :- we don't take corona serious
Corona 2.0 :- Now i will tell what hell i am 😂 pic.twitter.com/MscRO4dR7y

— MICHAEL (@Michael70274) December 21, 2020
#mutation hitting us like pic.twitter.com/dOrHFJANoD

— Eugen (@EugenLiberal) December 20, 2020
Pic1: Coronavirus Vaccines are available and safe.

Pic2: More lethal mutation of Coronavirus found in UK and Italy.
😭😭😭😭😭😭😭😭😭😭😭😭😭

#UKlockdown #mutation pic.twitter.com/MaRbbgJwqz

— The Dark Man (@ConnectDarkman) December 21, 2020
A pictorial demonstration of SARS-CoV-2 #mutation #coronavirus pic.twitter.com/lLcuWe9RSn

— परदेसी बाबू (@Realpardesi) December 21, 2020
When you thought it's a climax , but in reality it just an interval 😣😅😉#mutation pic.twitter.com/8pIwxPQ9ds

— Atmanirbhar Engineer (@Bahut_Scope_Hai) December 21, 2020
It's time to battle #Wessex#Mutation pic.twitter.com/KrQv2dAGTA

— Poet Gardener (@gardener_poet) December 20, 2020
UK PM Boris Jhonson confirms #mutation of Coronavirus with higher spread rate…

Le year 2020 be like : pic.twitter.com/UVL0WNjlAO

— UmderTamker (@jhampakjhum) December 21, 2020
Keeping the risk in mind, various countries including India, France, Germany, Finland, Switzerland, Italy, Canada, Iran among others have reportedly banned British flights. 
We still hope for a happier 2021!