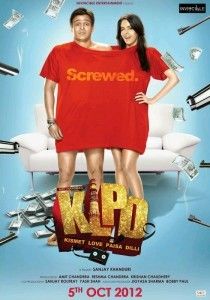 Stars can do anything to promote their films. How else do you explain this act by Vivek Oberoi and Mallika Sherawat?
The duo shared a tee at the launch of their upcoming flick KLPD called Kismat, Love, Paisa,Delhi! The name shocker aside the tee was emblazoned with the word screwed!
The looks screamed 'trying to hard' but with Mallika Sherawat that is quite normal, remember her nude look atCannes? Vivek seems to have picked up a trick or two from the actress. A happy Vivek tweeted,
"Super excited to catch up wid u guys 2nite at R City Mall Ghatkopar for an exclusive #KLPD unveiling…what cud it be? Lol c u guys there :)" on his mirco-blogging page. But with a launch like this imagine how the film will look?