Vivek Oberoi slammed for sharing a meme on Aishwarya:
We have seen people making memes on Bollywood stars but have you ever seen an actor making meme on another? So, this has happened, Actor Vivek Oberoi recently shared a meme, it was basically a collage of three photos of Aishwarya Rai with Salman Khan, Vivek Oberoi and husband Abhishek Bachchan and daughter Aaradhya. The meme compared Aishwarya's relationships to poll results.
Sharing the picture, Vivek Oberoi wrote, "Haha! Creative! No politics here… Just life."
Check it out: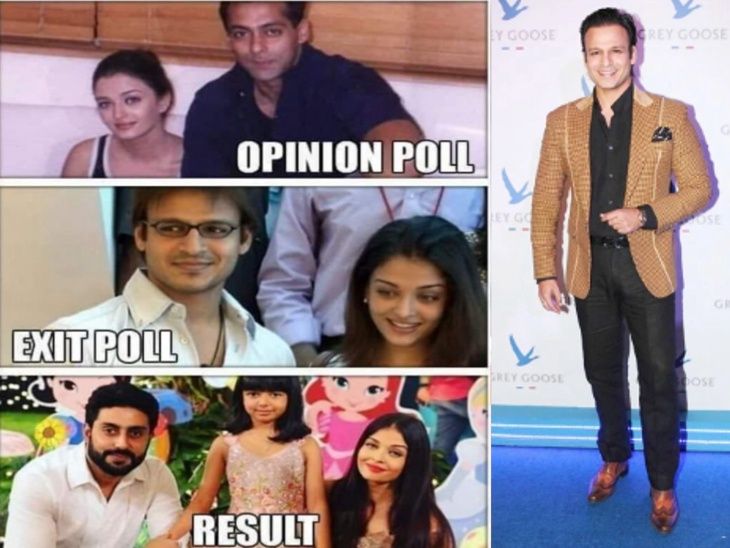 However, many Bollywood celebrities called it "disgusting, classless and silly'.
Sonam Kapoor who is currently in Cannes commented on this: "Disgusting and classless." To which Vivek Oberoi said: "Aap apne filmon mein thoda kam overact karein aur social media pe thoda kam overreact karein. I've been working in women's empowerment for 10 years now. I don't think this is hurting anyone's sentiments."
Some other celebrities also mocked him for the same:
Very disgraceful and in extreme bad taste of #VivekOberoi to put up such a disrespectful post. At least show the decency to pull off the post if not apologise to the lady and her little girl.

— Urmila Matondkar (@OfficialUrmila) May 20, 2019
Dear @vivekoberoi, never expected such tweet from u. The trolls may go to any extent and make memes but u as a responsible celebrity should be careful of hurting anyone's dignity. Would request u to apologize and delete the tweet. https://t.co/lfJgWiWphF

— Madhur Bhandarkar (@imbhandarkar) May 20, 2019
Bhai @vivekoberoi I can't believe that you can do it. You know very well that @juniorbachchan is one of the most gentleman in the bollywood. He respects everyone. It's my personal opinion only. https://t.co/t61ciHPrgC

— KRK (@kamaalrkhan) May 20, 2019
This tweet is absolutely Disgusting, distasteful, and degrading a women. @NCWIndia will be serving notice to @vivekoberoi https://t.co/Np0APTMzIZ

— rekha sharma (@sharmarekha) May 20, 2019
The National Commission for Women issued a notice to actor Vivek Oberoi asking for an explanation. To this, he said: that he doesn't think he has done anything wrong, that people are making a huge issue out of it and that he doesn't know what he should apologize for. Mr. Oberoi suggested that the protests against.
The NCW has taken Suo-Motto cognizance in the matter reported by the media regarding Vivek Oberoi's twit carrying picture of a minor girl and a women today . @vivekoberoi pic.twitter.com/RQAViMQLVO

— NCW (@NCWIndia) May 20, 2019
But now finally he has apologized, though, initially Vivek was unapologetic about the same and felt he did no wrong or demeaned nobody with the meme.
He said: "People are saying apologize, I have no problem in apologizing, but tell me what wrong have I done? If I have done something wrong I will apologize. I don't think I have done anything wrong. What's wrong in it? Somebody tweeted a meme and I laughed at it. I don't know why people are making a huge issue out of it. Someone had sent me a meme which made fun of me. I laughed at it and I appreciated the person for his creativity. If someone mocks at you, you should not take it seriously. Those in the meme don't have a problem, but everyone else has."
Sometimes what appears to be funny and harmless at first glance to one, may not be so to others. I have spent the last 10 years empowering more than 2000 underprivileged girls, I cant even think of being disrespectful to any woman ever.

— Vivek Anand Oberoi (@vivekoberoi) May 21, 2019
Even if one woman is offended by my reply to the meme, it calls for remedial action. Apologies🙏🏻 tweet deleted.

— Vivek Anand Oberoi (@vivekoberoi) May 21, 2019
However, it seems like he has changed his mind and he took to Twitter to not just delete the memes but also apologize to everyone who got offended.
Meanwhile Aishwary Rai and Sonam Kapoor are at cannes.
Aishwarya once again turned up the heat on the red carpet in an ethereal all-white look. She wore a strapless gown, featuring feather-motif adorned corset torso, accentuated by tulle detailings, and a figure-hugging skirt with side-slits that complemented her svelte figure.
Check out her look below:
People are urging her husband, Abhishek Bachchan to take a stand too.