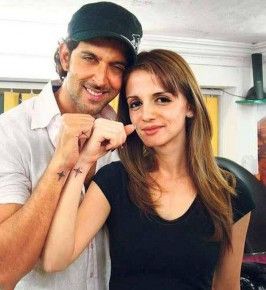 When Hrithik and Sussane announced their split, many people were saddened and what has shocked many is that Hrithik Roshan is trying to put the blame on his wife!
A statement from Hrithik confirms, "Sussanne has decided to separate from me and end our 17-year relationship. This is a very trying time for the entire family and I request the media and the people to grant us our privacy at this time."
This statement clearly mentioned Sussanne has decided to call it quits while Sussanne's statement clearly mentions 'we'.
But why has Hrithik timed the statement when he is not in India, and mentioned that the separation is Sussanne's decision.
In fact Hrithik has tried to show himself as the miserable one and written on his social networking profile, "This is my greatest tribute to love. Sussanne is and always will be the love of my life and for the rest of my life. If her smiles are brighter without me my love for her will accomplish that. Unconditional." This confirmation comes after four months of speculation about the split.
Do you think Hrithik is trying to gain sympathy and mileage from the split?