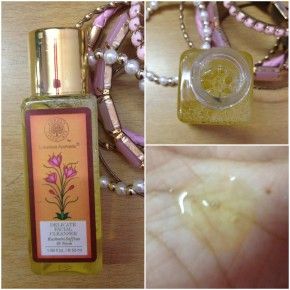 I went to restock my Face Mist and on a trip to Forest Essentials I saw they had travel packs which were around 250-350 INR. But you have to pick three things to buy the travel pack. This is a good deal because you can try an array of products for a fraction of the price. So I picked the facial cleanser Kashmiri Saffron and Neem. This seemed perfect for the balmy weather and the Sales Assistant told me it is for normal to oily skin.
Claims: The first rule of Ayurvedic skin care is cleanse, tone and nourish. The secret to proper cleansing is to remove dead cells and toxins, clear clogged pores and clean make-up without stripping the skin's natural oils and moisture content.  Saffron has always been used in traditional formulations for glowing skin, along with Neem for purifying and deep cleansing. Suitable for all skin types.
Packaging:  The facial cleanser comes in a transparent bottle with a gold cap and a plastic stopper which is difficult to remove. The face wash is opaque lime yellow coloured.
Price: 250 INR for 50ml (the bigger bottle 200ml is for 875 INR).
Pros: The Forest Essentials Kashmiri Saffron and Neem Delicate facial cleanser is great for oily skin people as:
•        Forest Essentials Kashmiri Saffron and Neem Delicate facial cleanser is a gel based cleanser. You don't need too much product to get a squeaky clean face.
•        I was skeptical about the fragrance as it has neem but the cleanser has a very nice smell. But the fragrance doesn't last long and won't bother you.
•        Perfect for travelling.
•        Doesn't break out and even though it is a tad bit drying it doesn't break me out or make my skin dry.
Cons:  None, except the stopper can be annoying but the bigger bottle has a better stopper.
Rating: 4.5/5, It's great for this season but I won't be using it once winter sets in.