Check out the review of Indulgeo essentials rose gold oil:
Indulgeo Essentials Rose Gold Daily oil broke the internet when it arrived in the Indian markets. I have seen many beauty and fashion bloggers raving about it. In this age of skincare and makeup products, this rose gold oil is a favorite. Makeup artists, beauty gurus, and influencers in India are all using this oil right now. It is an anti-aging formula designed to hydrate and nourish different skin types. Check out why I choose and its review below:
Why I choose it:
I heard many people buzzing about this product, so I thought of trying it. I just couldn't wait to try this oil.
My experience with it: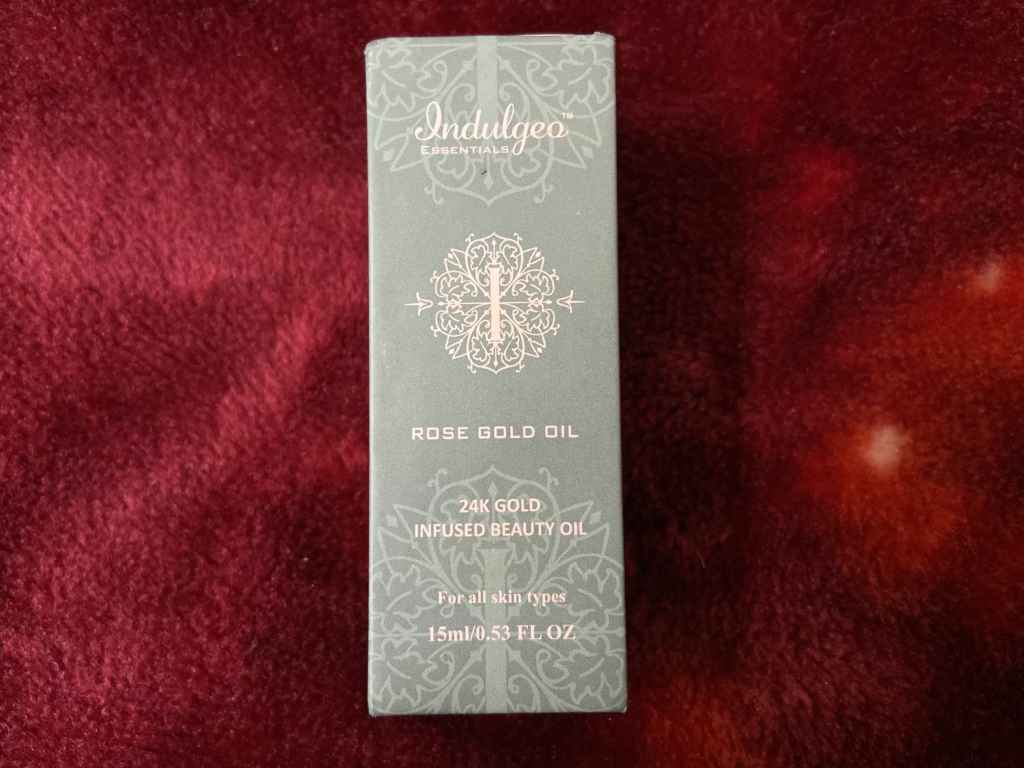 I am pretty sensitive about my skin and wanted something that will nourish it. So I got my hands on this Rose Gold Oil. After researching I found out that it is a 100% organic facial oil made with 24K gold flakes, pumpkin seed oil, rosehip seed oil, Vitamin E oil, orange peel oil, patchouli oil, and lemongrass oil. All these ingredients help to hydrate, nourish and tighten your skin.
It has been months that I am using this product and trust me the hype is real. It is a wonder product. My makeup blends beautifully and my skin looks hydrated throughout the day. It makes the skin super soft and radiant. I don't think I will ever recommend a product so strongly, but it is worth it.
Packaging:
It comes in a small brown-colored glass bottle with a dropper for easy application. The front of the bottle has the logo of the brand and the product name and at the back ingredients are listed. I loved the packaging, it is travel-friendly and secure.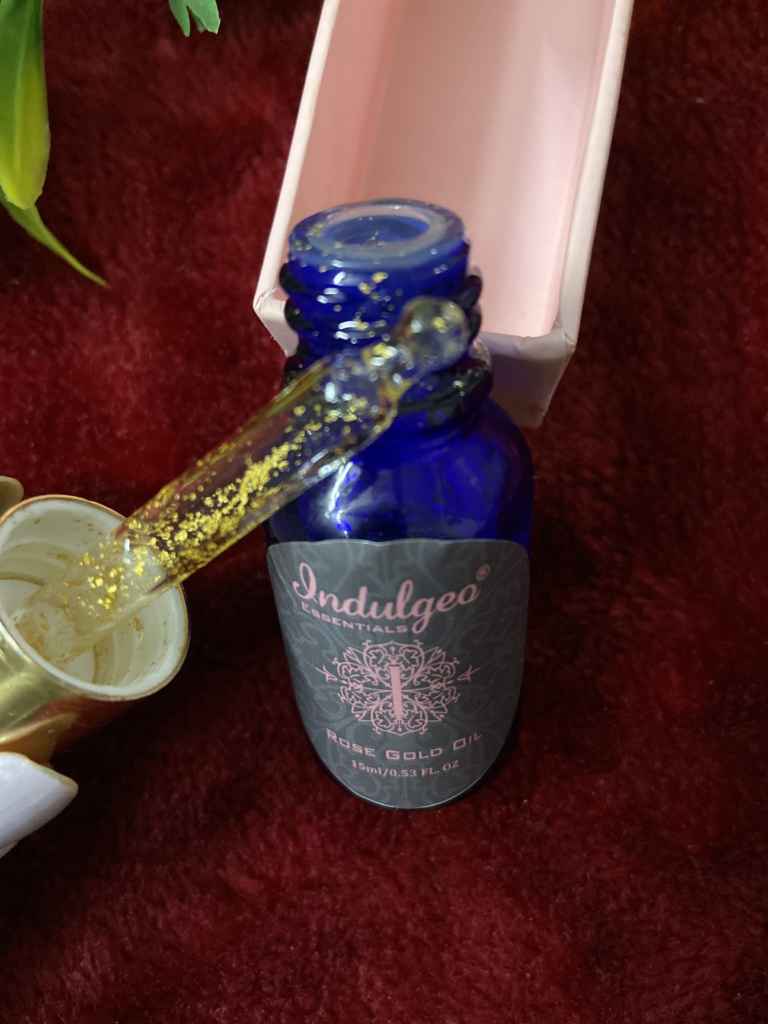 How to apply:
Pour one drop on your forehead and one on each side of the cheeks, now rub it on your face.
You can mix it with your foundation and apply it.
It can be used to hydrate the lips as well. Apply a drop of rose gold oil before applying a matte lipstick.
For beautiful glow, I like to apply it to high points of my face before applying highlighter.
Texture:
The product has the perfect texture. It absorbs into the skin easily leaving it glowing. It looks like a 24k magic of gold. A light clear concoction of oil with gold flakes. Just amazing.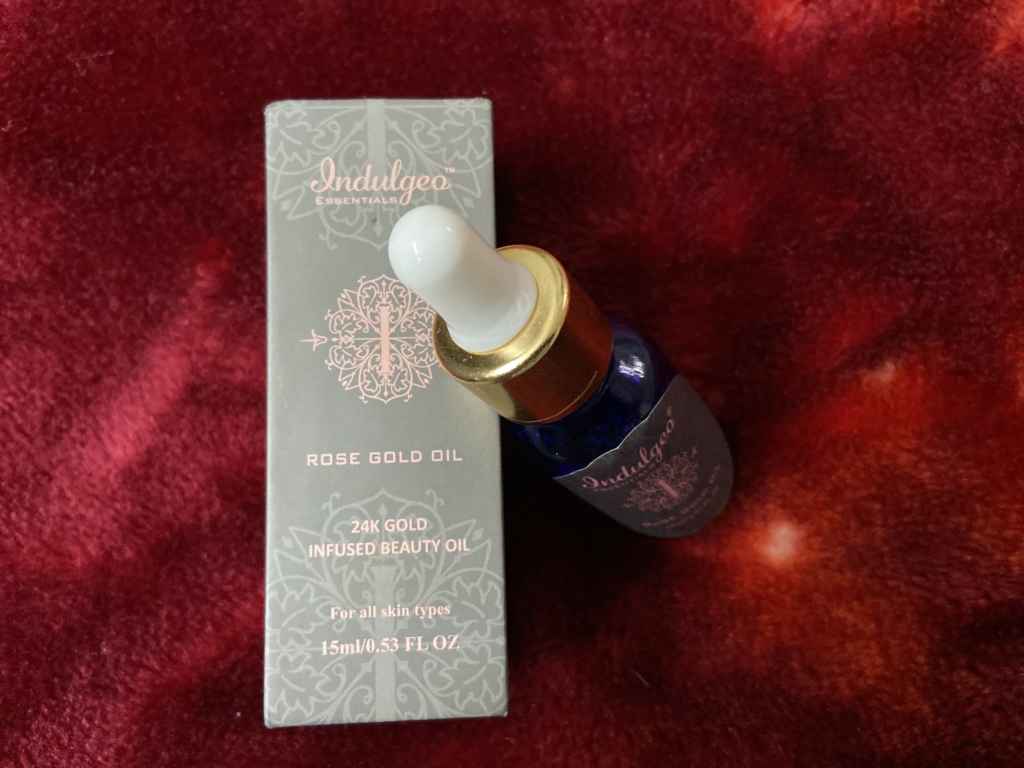 Product Ratings
Quality: 10/10
Quantity: 10/10
Packaging: 10/10
Value: 10/10
Total: 10/10
What it does to the skin:
This inexpensive oil is just the perfect skincare that you need. It treats dull, damaged and dry skin. The moment you massage it, you will feel its soft and smooth effect.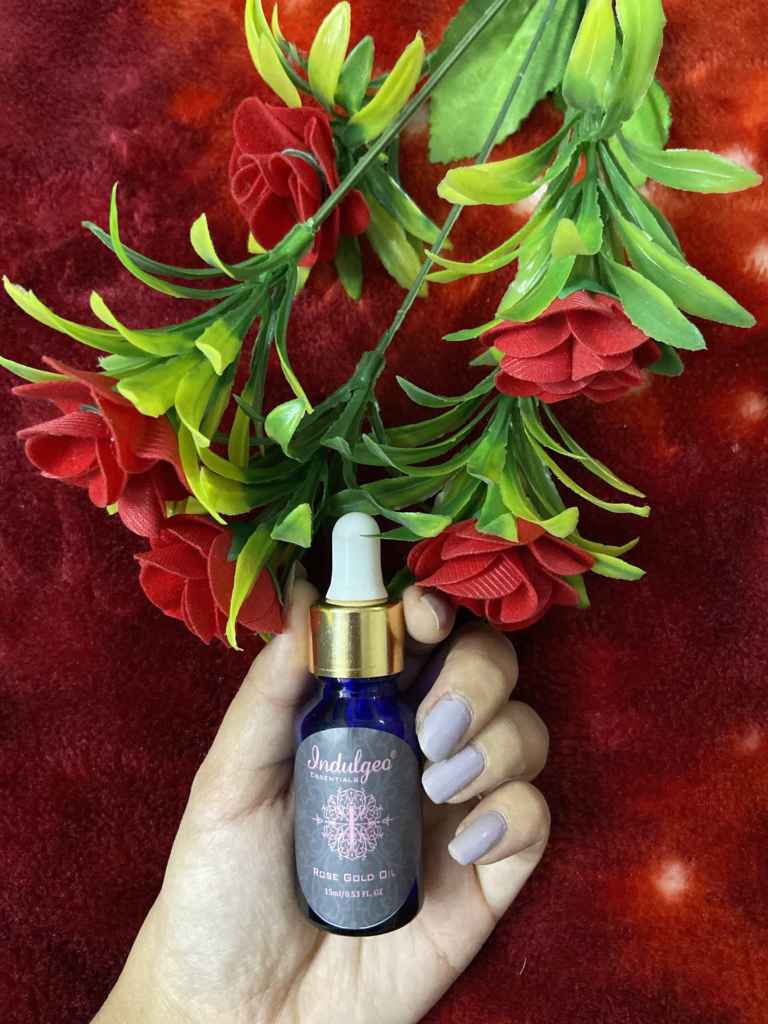 Ingredients
24K Gold Flakes, Pumpkin seed oil, Rosehip seed oil, Vitamin-E oil, Orange peel oil, Bergamot oil, Lemongrass oil.
Pros:
A great moisturizer
Good for all skin types.
Doesn't feel sticky
Light oil with the goodness of 24K gold flakes.
Easily absorbed into the skin.
Gives an instant glow.
Improves skin texture with regular use.
It has Anti-aging properties.
Helps smooth makeup application.
Only a little quantity is required.
Cons:
The product does what it claims, so it doesn't have any cons according to me.
Price:
INR 1280 for 15ml and INR 2300 for 30ml