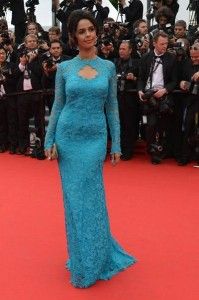 Get ready for the biggest (and bling-est) star show of the year. Cannes 2014 has finally begun and our Indian Bollywood glitterati has started descending at the Cannes red carpet. Bollywood made its presence felt at the prestigious 67th edition of Cannes film festival's opening ceremony.
This year the first sighting is of the Cannes regular Mallika Sherawat who attended at the premiere of 'Grace Of Monaco' wearing an Emilio Pucci lace gown. From her first appearance Ms. Sherwat toned down her appearance and wore a turquoise lace gown. However the gown was hardly eye grabbing Cannes-worthy. It looked run of the mill especially since lace has become common.
Mallika Sherawat wore the figure-hugging lacy number which a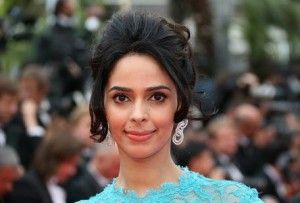 shimmering golden clutch and a high bun which looked too stiff and unnatural. She accessorized her look with diamond ear-rings and minimal make-up. But Mallika needed better makeup as she looked underwhelming for the opening ceremony and the screening of the film 'Grace of Monaco'.
PS Uday Chopra who has gone to Cannes as an Indian producer attended the Opening Ceremony too.