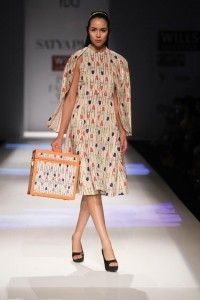 While all of us fashionista's love label shopping, but affording the latest trends after each fashion week, can be one daunting and expensive task! So as the Wills India fashion week ends, we get you five trends you must incorporate in your wardrobe. PS we also tell you some high fashion brands to budget shops where you can buy them:
Sequins: Sequins are big this season, but do not restrict them for your party wear. You can incorporate sequins in your office wear with sequined collars or hems. You can pick them from Zara and Forever New.
Quirky prints: Masaba's debut collection saw quirky prints like lipsticks and phone booths for the collection. Quirky prints can make any drab outfit look amazing. The best way to don this is to look for clothes with unusual prints. PS Many budget shops like Max and Westside are also doing quirky prints.
Leather:  Leather is surely going to be the next big thing. To balance leather always wear flirty feminine accessories. Pick up leather looking jeggings from Zara or a basic leather mini.
Net: Net or lace will stay hot property this season too. The best part is that most stores now stock beautiful lace tops and dresses. PS nothing can look hotter than a cling fit black lace dress!
Honeycomb prints: Honeycomb is going to be the print of the season, while quirky looks edgy and cute, honeycomb looks sophisticated, geometrical pretty. Pick a honeycomb print top and pair with pants for a chic office look.