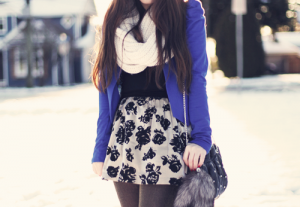 The harsh winters in Northern India often means dressing up like you are curled in a blanket. Fashion isn't the first thing you think of when cold.
But here are 5 great tricks to remain warm and still look pretty fashionable.
Buy warmers: Yes those ugly warmers are actually pretty good. Wear the combo and you can wear a dress with stockings and you are done (and warm). They might look ugly but hey no one is going to see them!
Wrap up: Buy some or raid you mothers' closet for shawls, ponchos and capes. Wear them to avoid the chill and still look stylish. The best way to sport a shawl: buy a black one with intricate work, it will be the most versatile piece in your wardrobe.
Layer clothes: Wearing an ugly sweater with thick pants or a stylish coat, shirt and denim combo? Most of us would want the latter. The best way is to wear multiple layers of clothes with a warmer or a cotton tee inside to heat up your body.
Socks on socks: Boots are the perfect winter wear but often ballet flats or heels have to be worn for a more formal/classy look. Wear a thick pair of socks and pull a pair of skin-coloured stocking on them and now you can wear footwear without feeling cold.
Try different accessories: Winter accessories like scarves, gloves, hats, caps, fur collars are warm and look really pretty. You can get amazing winter accessories at  stores like Zara, Accessorize, etc.
Woolen dresses: Instead of cotton dresses opt for warm woolen tunics to look smart and stay warm.