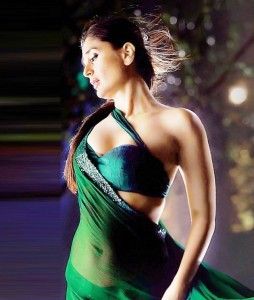 Wearing a sari is no easy task but carrying it gracefully is even more difficult. Team Aaw loves saris, all the sequined, chiffon, silk and brocaded ones. Here are a few tips on how to look sexy in a sari…
Always wear fishcut petticoats: fish-cut petticoats enhance the silhouette, as they are more structured in shape. Regular fits are like straight sacks, shapeless and ugly. Always get the noose area double stitched.
Pin it: Pins help grip the sari better. Always use them if you are not confident of your tucking in the sari. We recommend you use two on the pleats, one to gather them before tucking inside and the other for symmetry. One on the pallu, for hassle free looks and comfort.
Don't over do makeup: You do not live in some TV soap or 'ramlila'. Never get too matchy-matchy. Pink sari can have a pink lipstick and a flick of khol. Follow the basic rule either enhance your eyes or lips, never do both! But a bindi can add to all that oomph….
Jewelry: Use basic subtle jewelry. Don't opt for the coloured paste stones matching your outfit. The golden rule for accessorizing: one chunky piece of jewelry. Take your pick from a heavy neckpiece or chandelier earrings. Wear lots of bangles.
High heels: Heels help the sari flow better. Heels are a must, saris with flats make a person look flabby. Heels give poise; so wear those stilettos for a perfect look.
PS: Wearing a saree is a difficult task if you don't know how to drape one. Our suggestion: take a sari-draping course or buy sari-saheli. It's an awesome device that's helps tie a sari.
Look sultry hot and make temperatures soar this season with a sari.