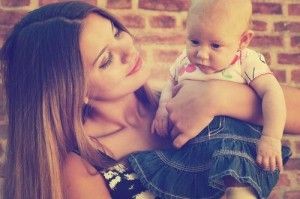 Getting dressed when you have a baby or a toddler can be a difficult experience (to say the least). Most mums find it difficult to get dressed and end up looking hassled! So here are a few quick ways for a busy mom to look smart and pretty:
Address your hair first: Making a perfect hairdo is going to be 'out' for some years to come. So get a stylist to cut your hair into shape that is easy to maintain and style. Simply get bangs, just comb them properly and make a messy bun.
Go smart with your makeup: Applying concealer, foundation, powder, etc is a long process so replace it with some BB cream. After it apply, blush, kohl and a tinted lip balm and you are all set. For a party worthy look just wash your eyelids with a shimmery gold or bronze and apply a dark lippy.
Get coloured jeans: Simply buy a few coloured denims or leggings tolook stylish and smart
Stripes: The 'it' style this season is to wear stripes. But avoid horizontal ones as they can make you look fat.
Anarkalis: For the weddings and night outs, simply buy anarkali suits. Make sure they do not have a heavy design on the neckline, not only will it accentuate your bust but picking up your child will be difficult as the stones and embroidery will pinch him.
Sunglasses: The best way to get dressy in the daytime. Get yourself a large pair of sunglasses to add style to your look.
Brighten up: Neons are in this season and they can make any drab outfit sparkle. Simply buy a neon coat, handbag or shoes. Pick one and shine on!
Did you find these tips helpful? How do you dress up when you are busy with your lil one